Carnival Elation Cruise, Feb 16-21, 2015, FOOD!
-----
Pictures of Carnival Elation Cruise Food, Feb 16-21, 2015. Carnival Elation has not transitioned to American Table (yet).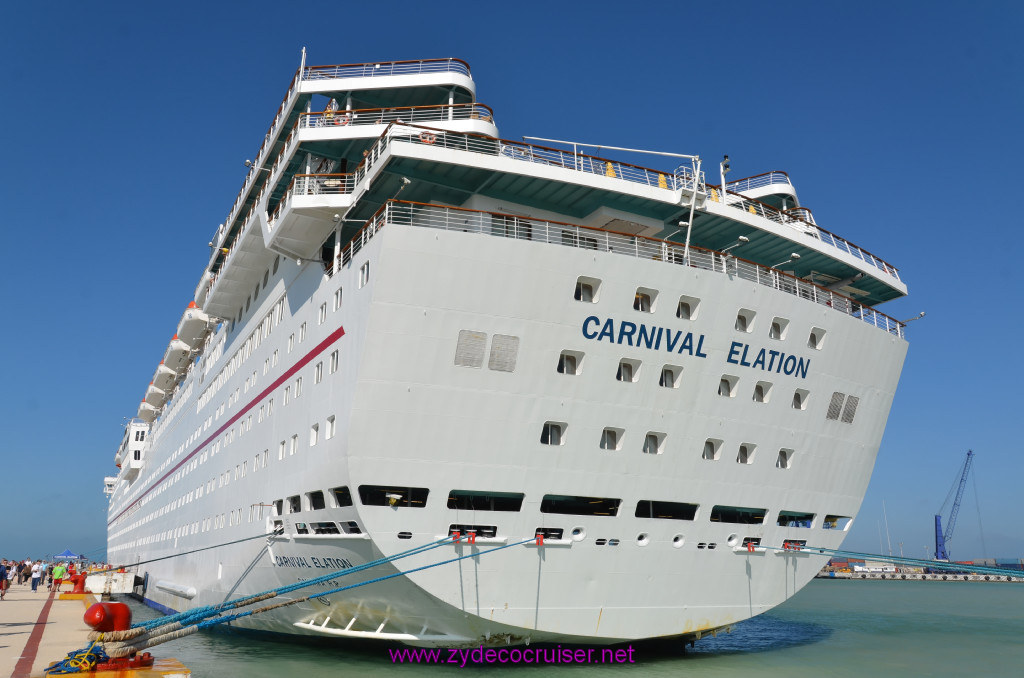 Some of the food choices, embarkation day
Carnival Deli Menu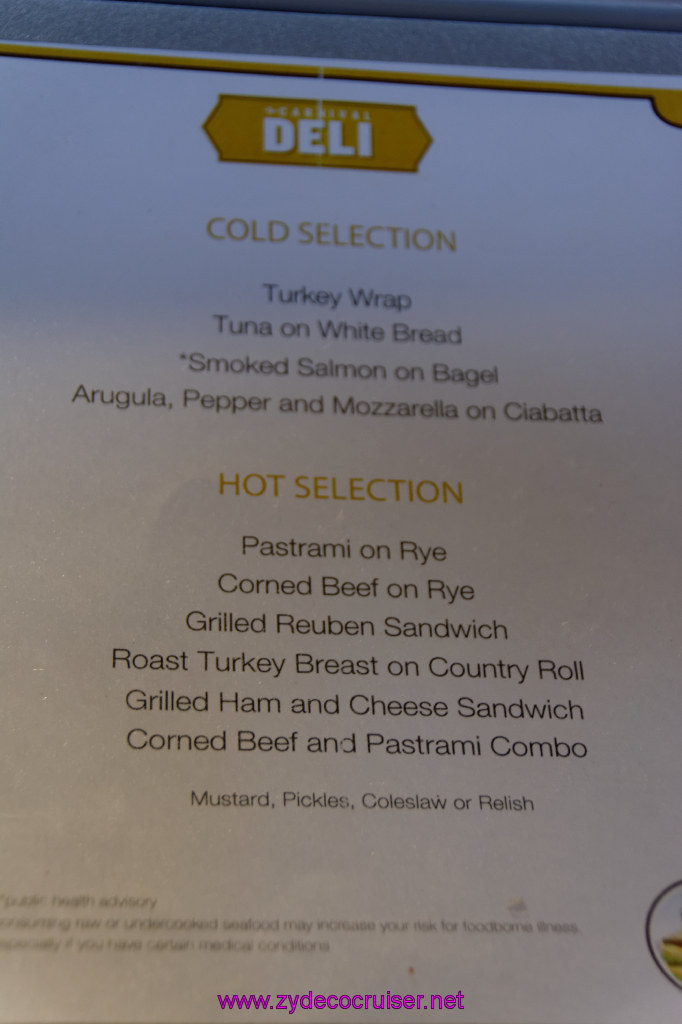 Corned Beef and Swiss on Rye, Grilled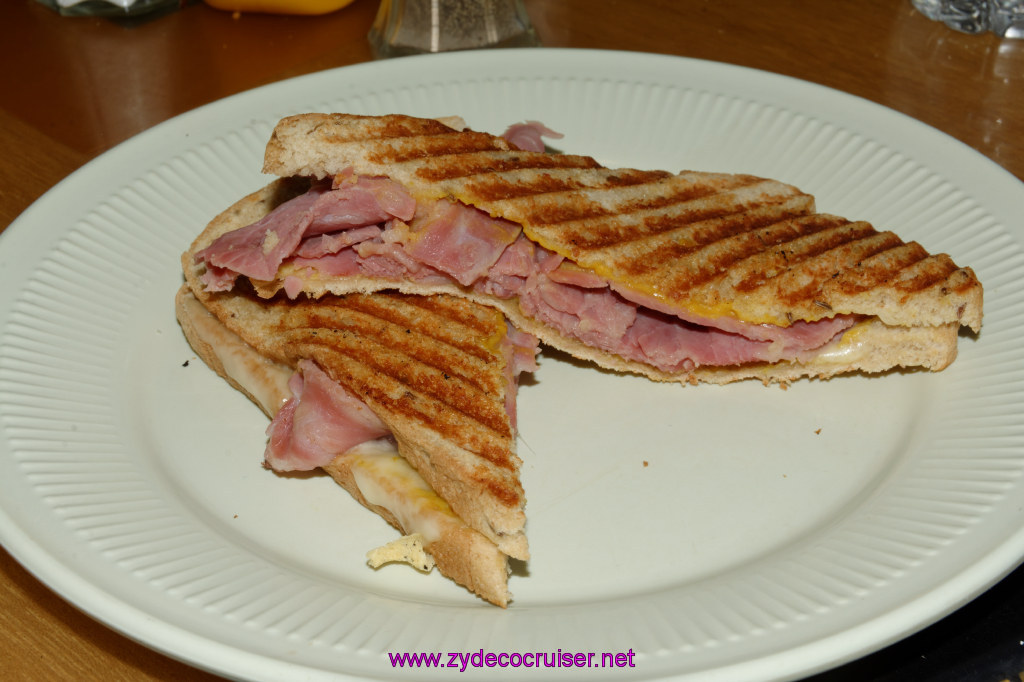 Some condiments available on Lido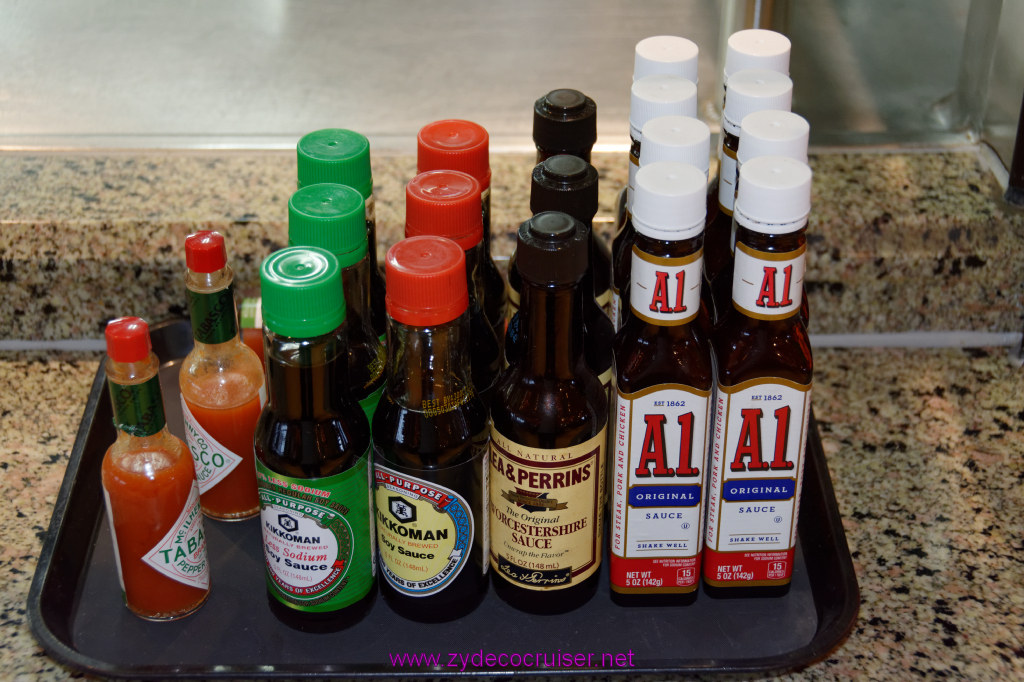 Carnival Elation Day 1 MDR Dinner Menus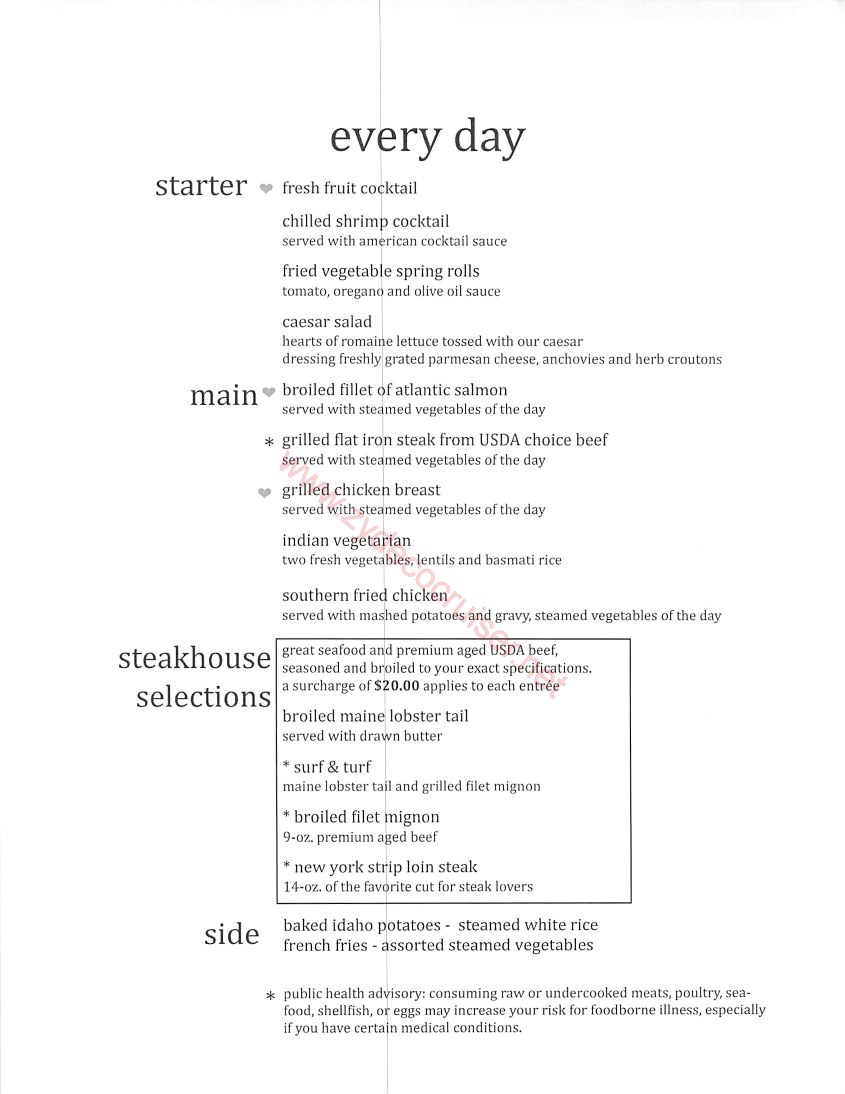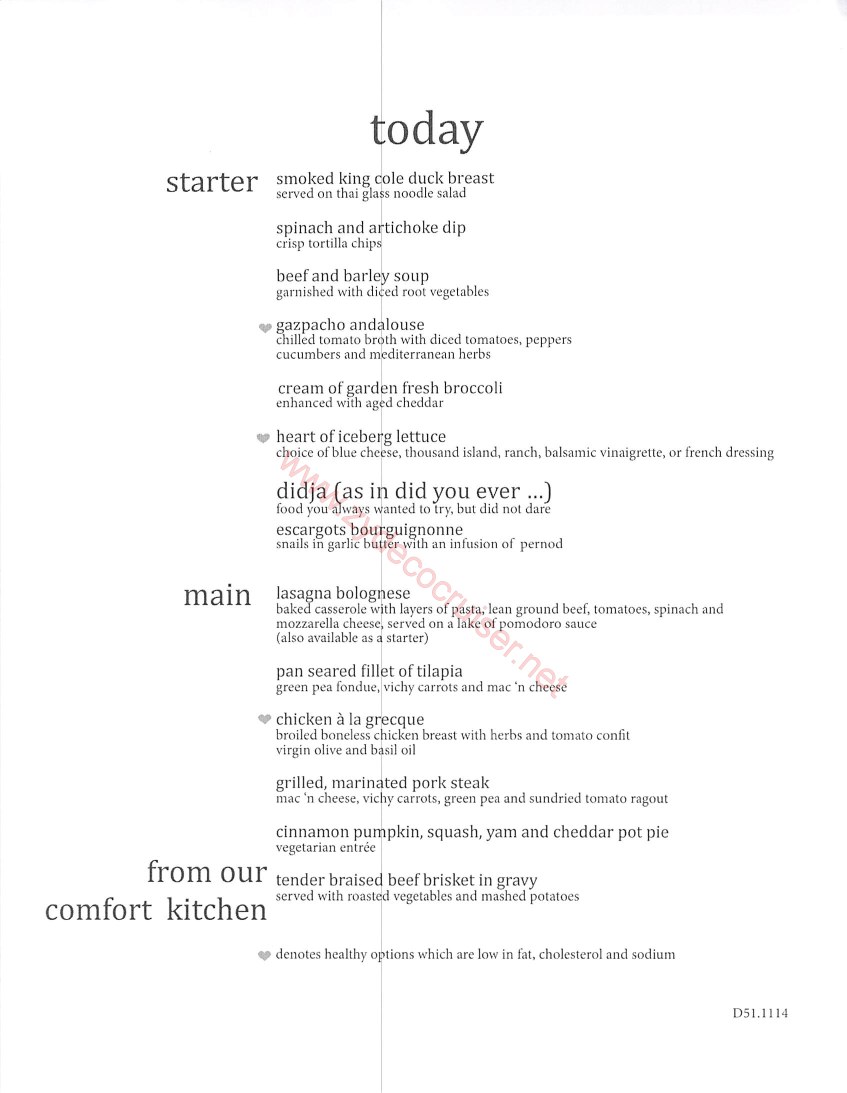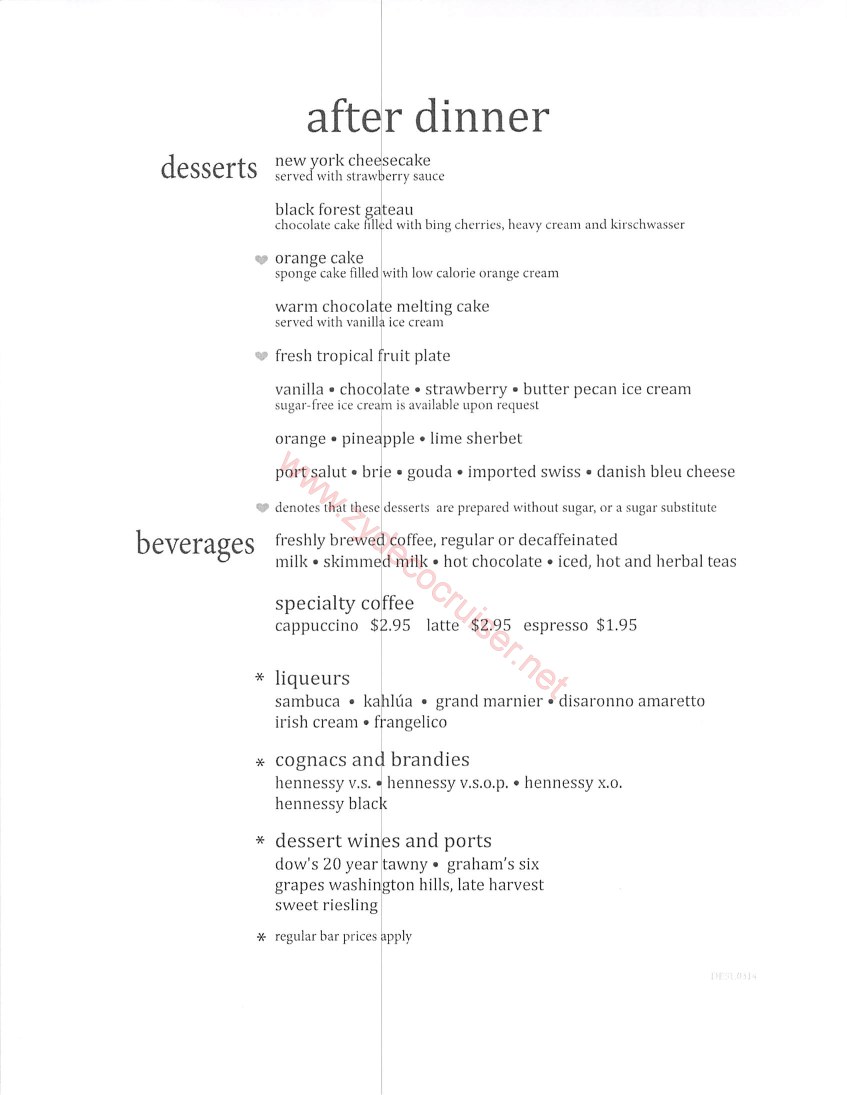 We started out in Your Time Dining but found the wait time unacceptable and later switched to late seating traditional. I do like the breads left on the table for YTD.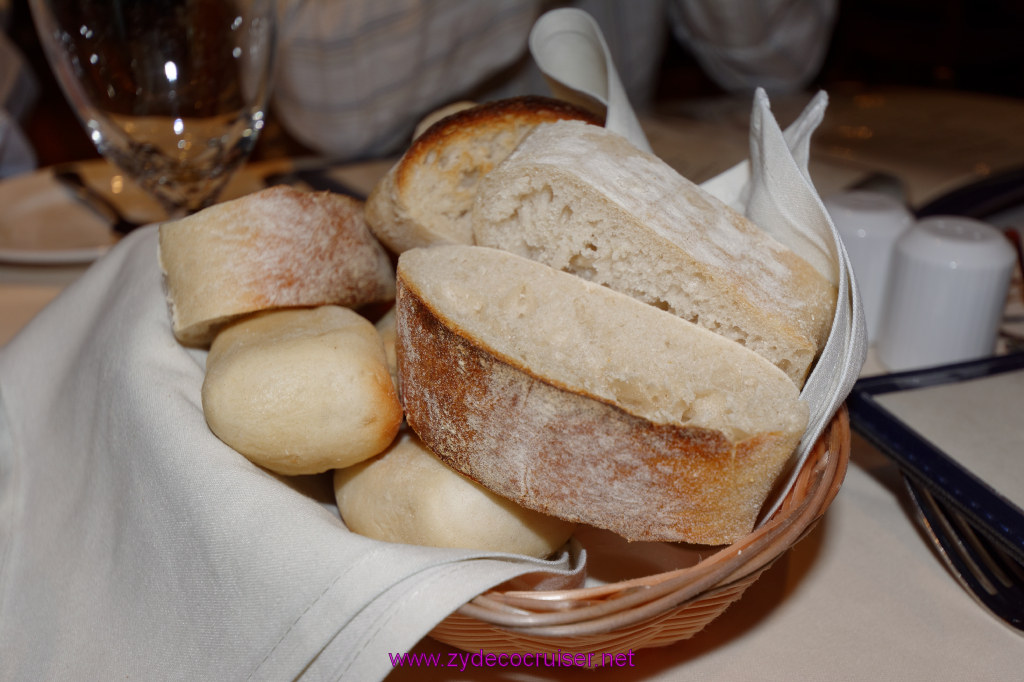 Lasagna Bolognese, starter size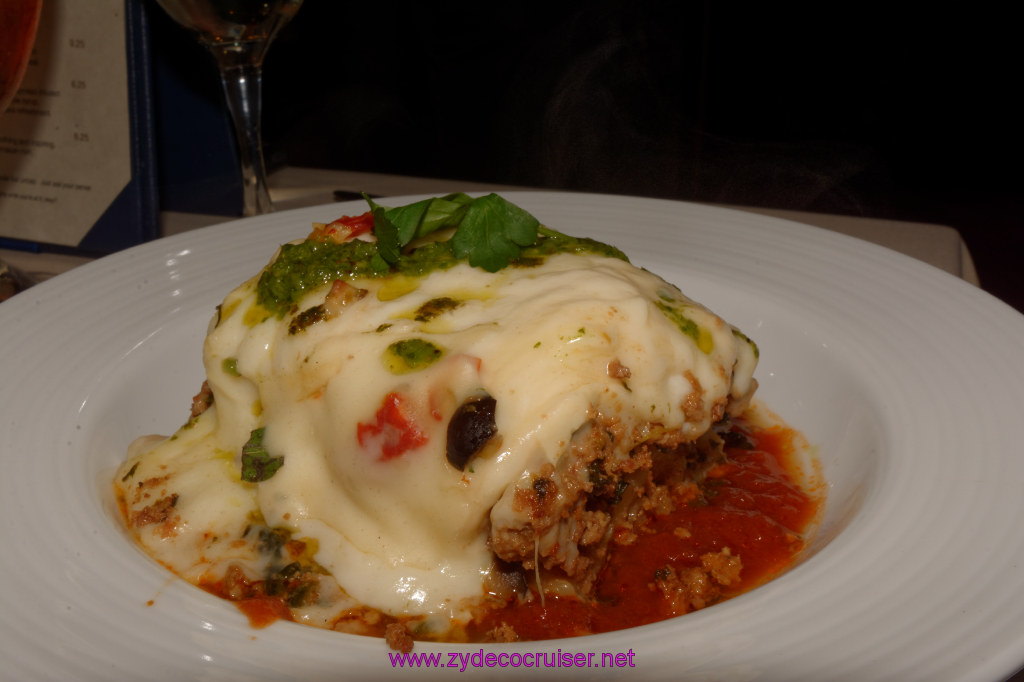 Escargot (one of my favorites)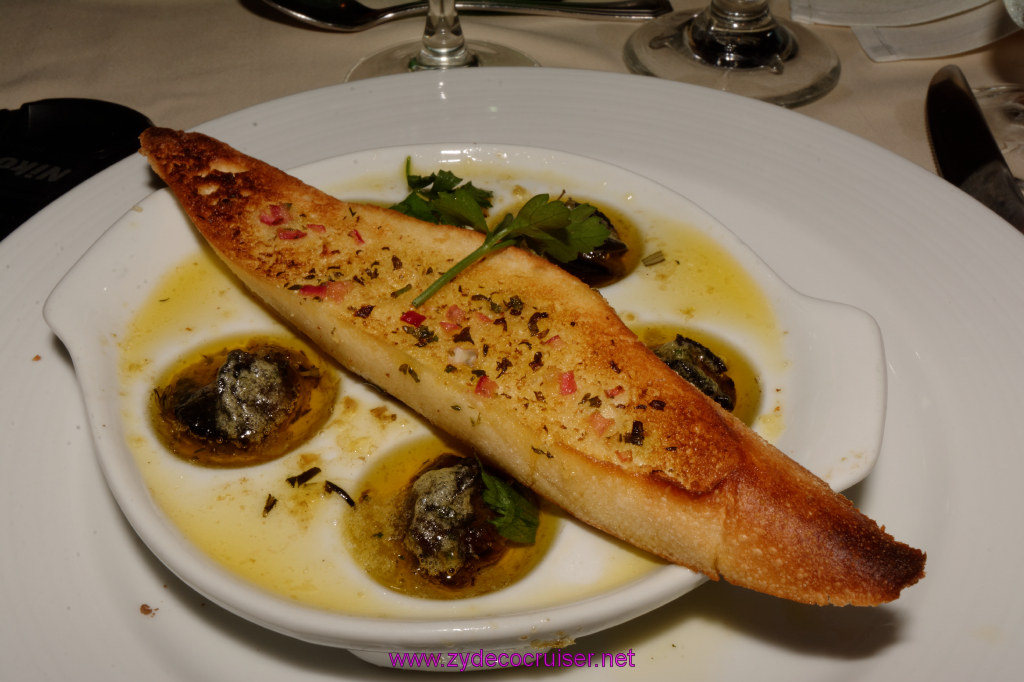 Smoked King Cole Duck Breast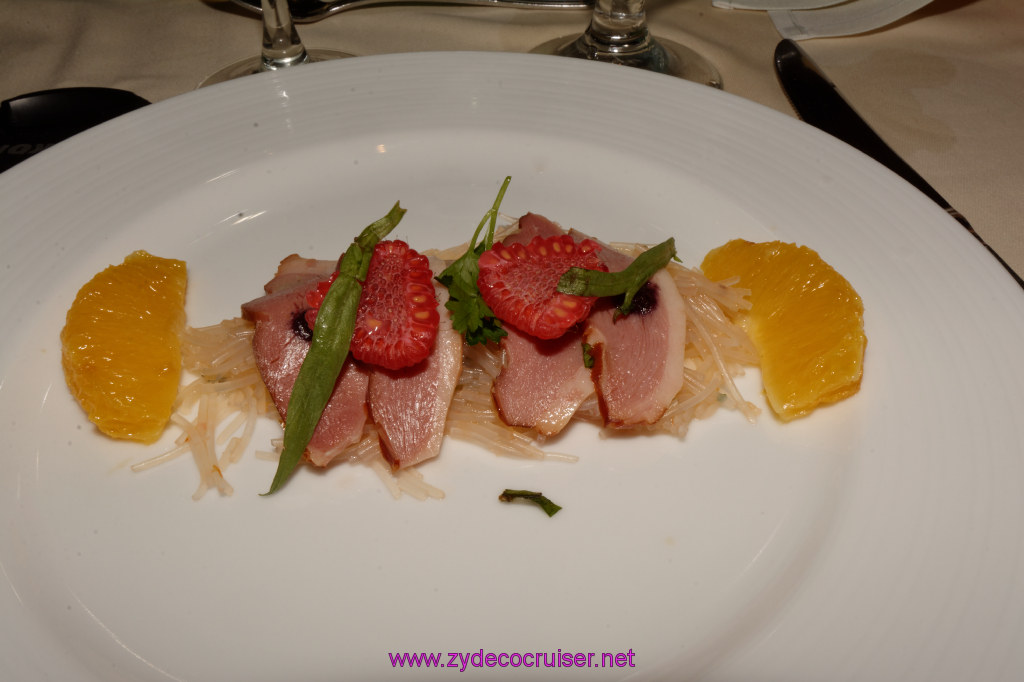 Heart of Iceberg Lettuce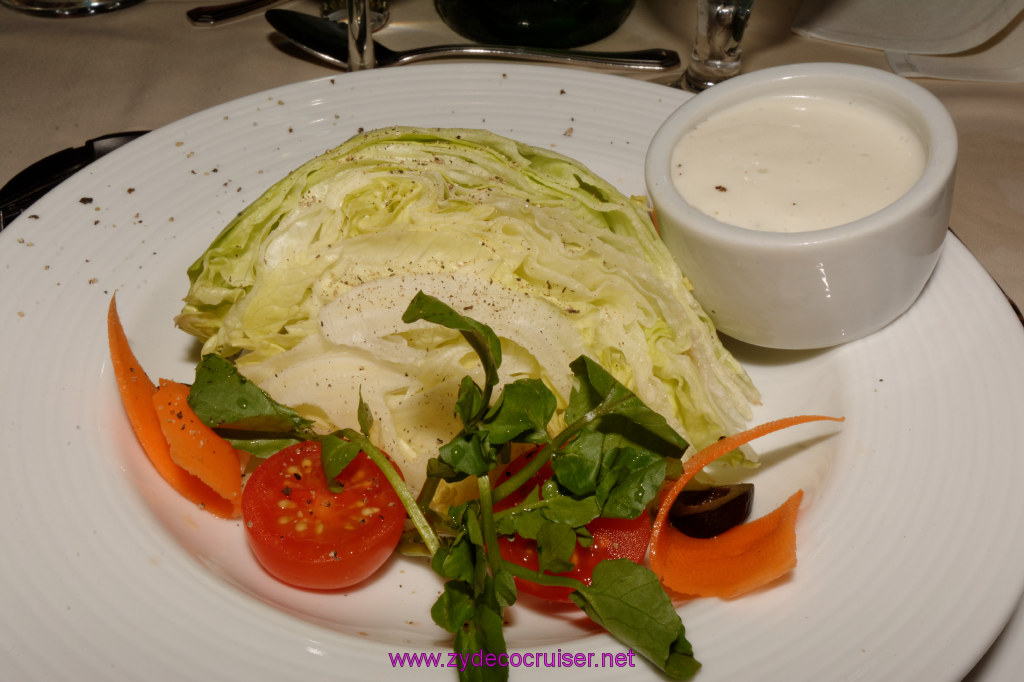 Tender Braised Beef Brisket in Gravy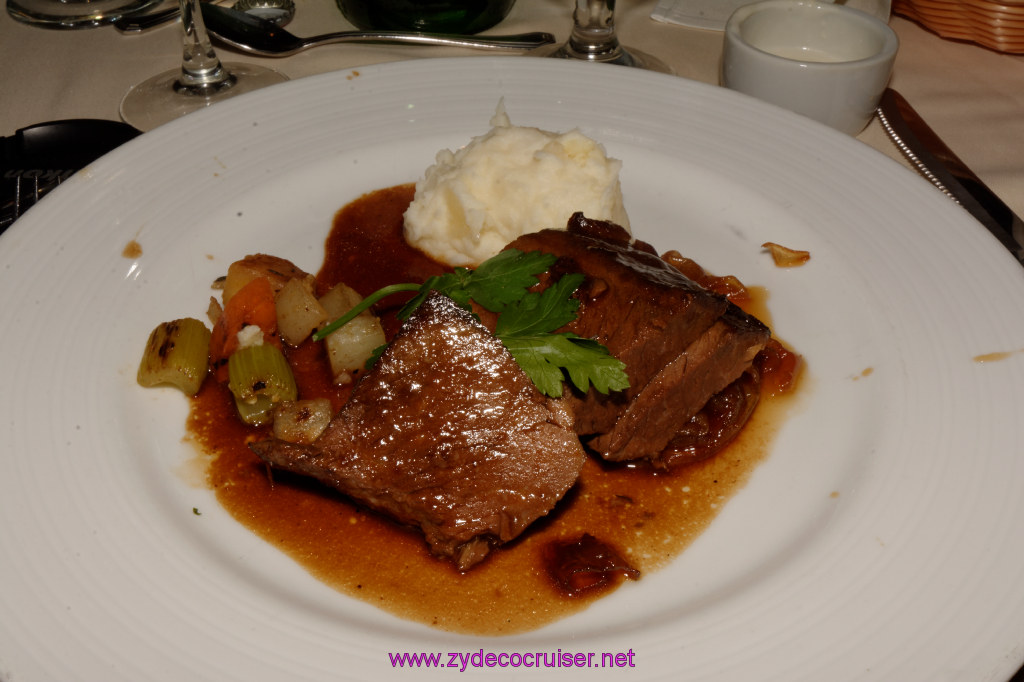 Sometimes when you ask for well done WCMC you get overdone. Oh well. still good! Warm Chocolate Melting Cake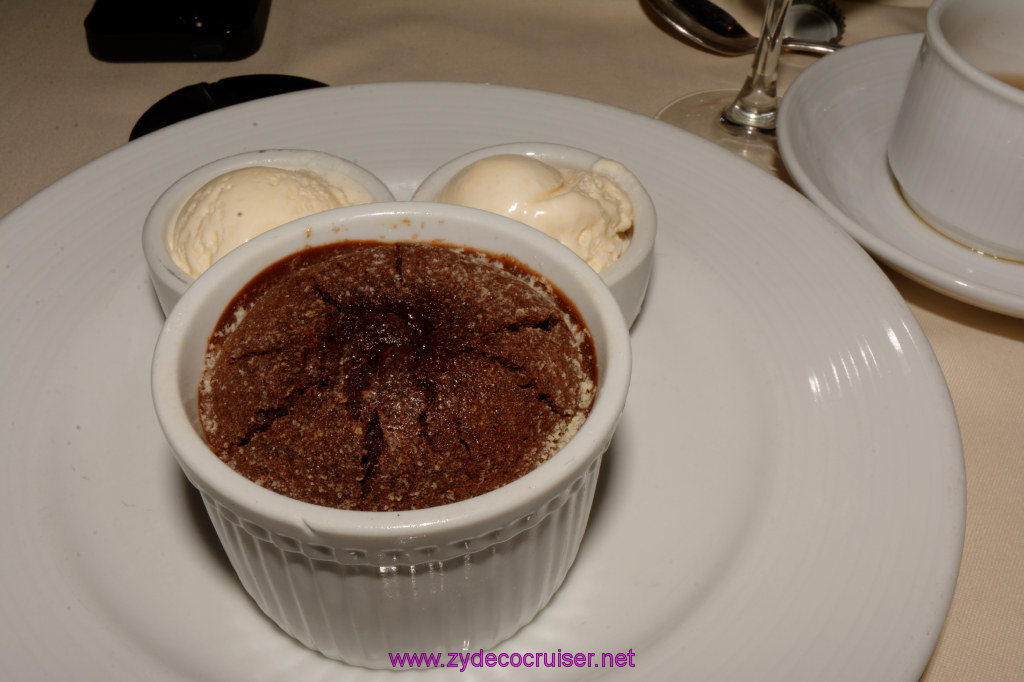 New York Cheesecake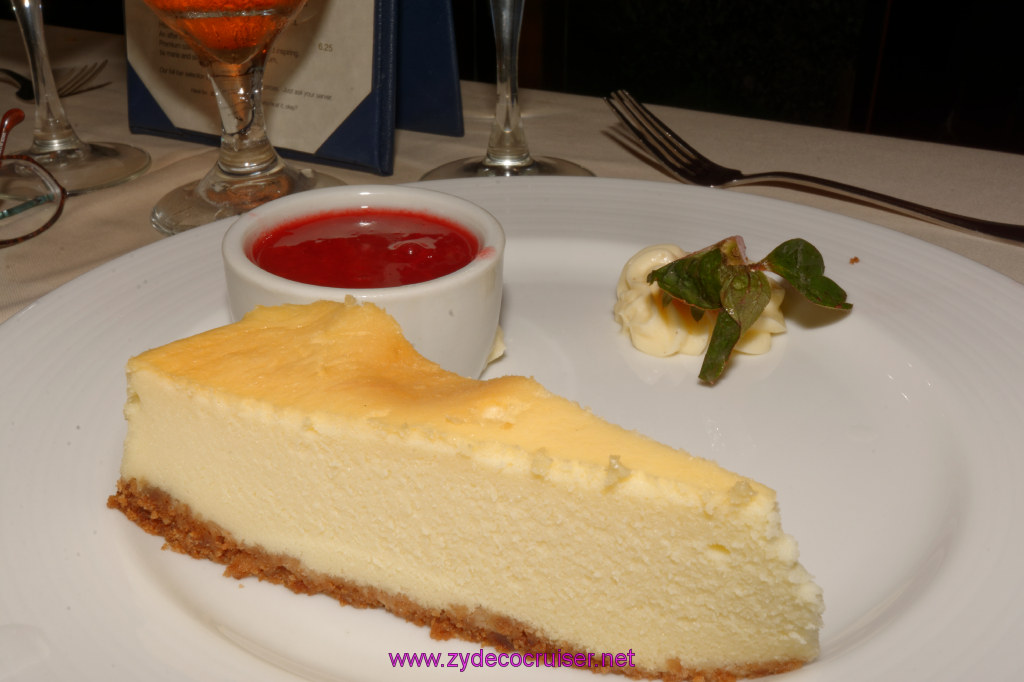 The first full day was a sea which brought SeaDay Brunch. SeaDay Brunch is fleet wide on Carnival so all ships have.
Before 11am the bread basket is full of assorted breakfast breads but after 11am switches to delicious popovers. Except on Carnival Breeze a few weeks earlier where they were terrible - seriously overdone.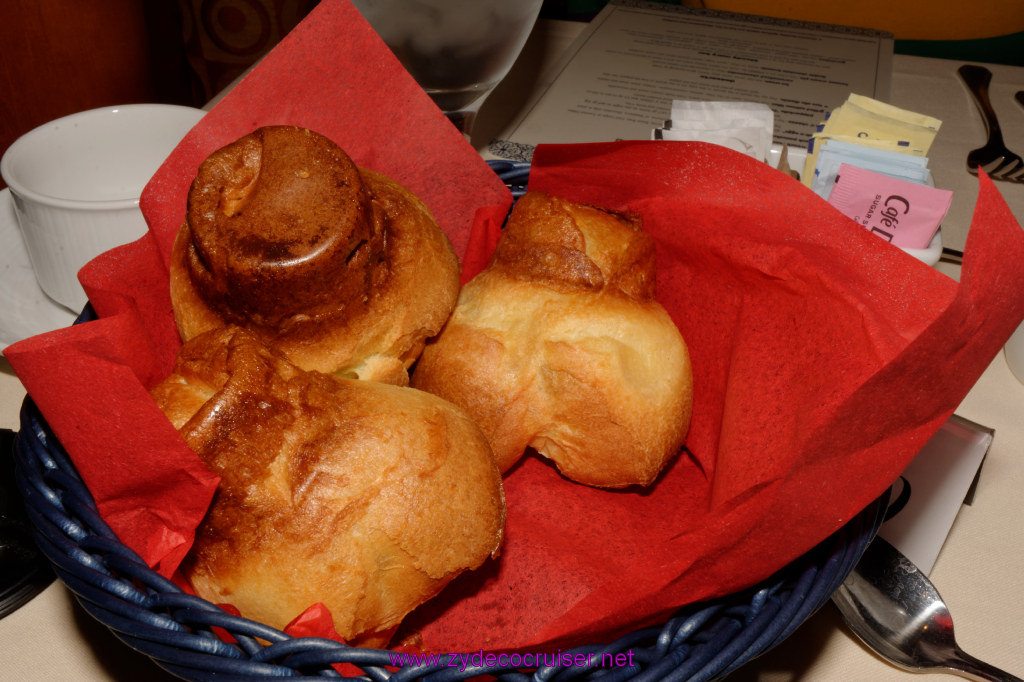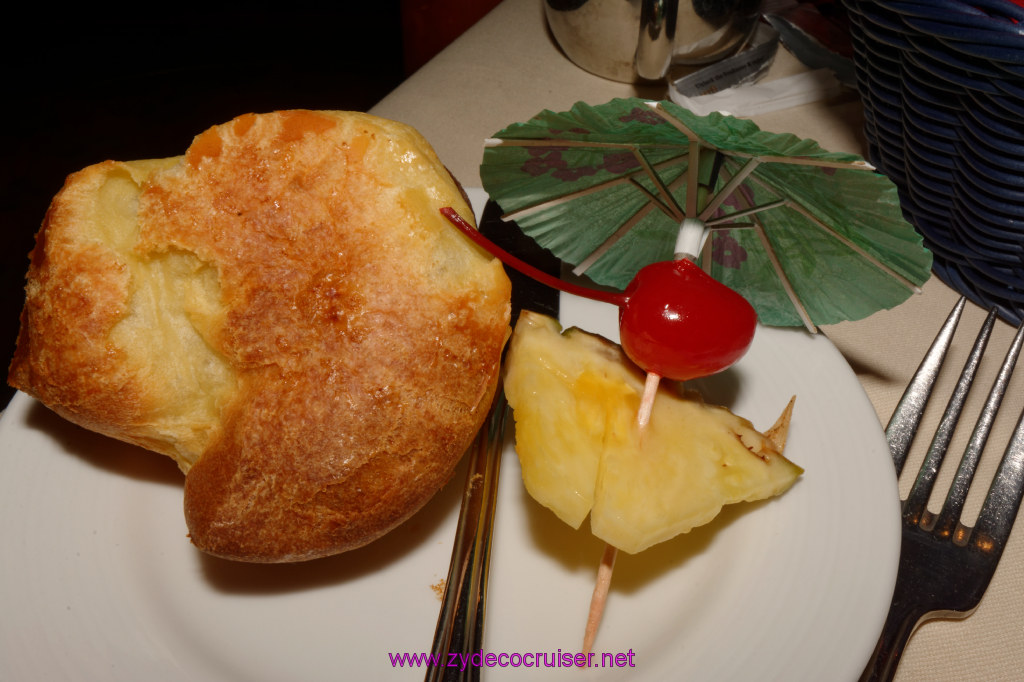 Some spicy delicious Flamin' Tomatoes Soup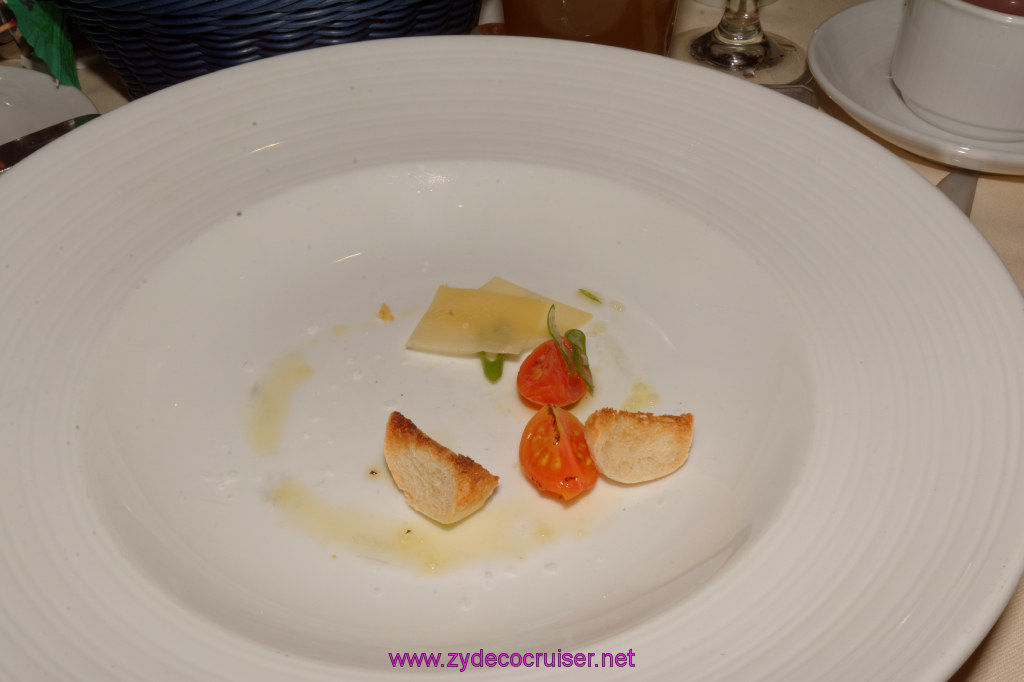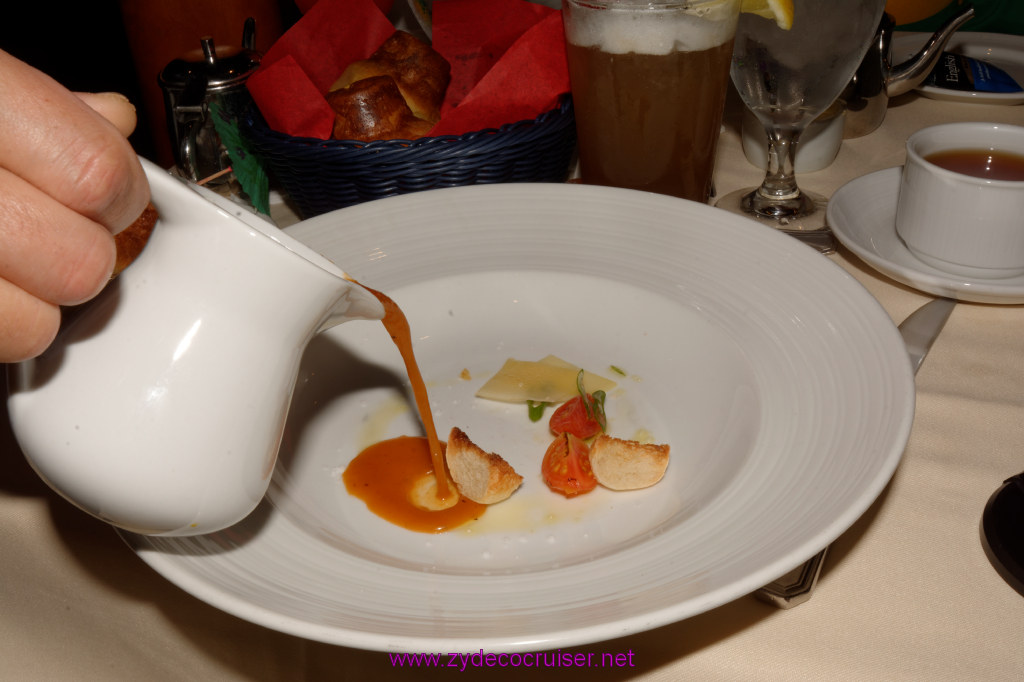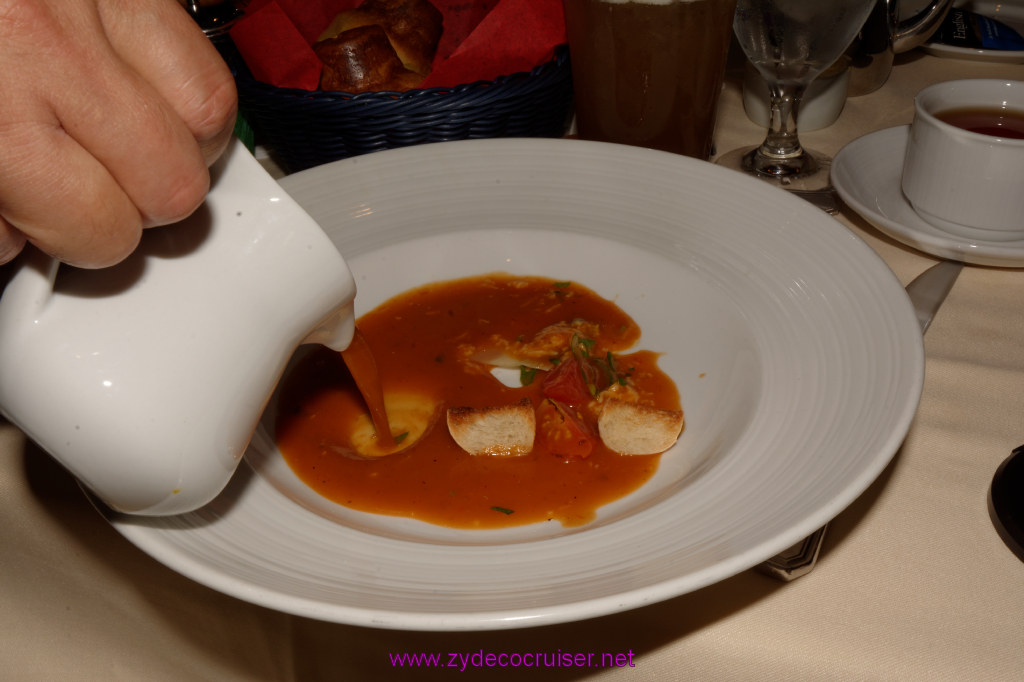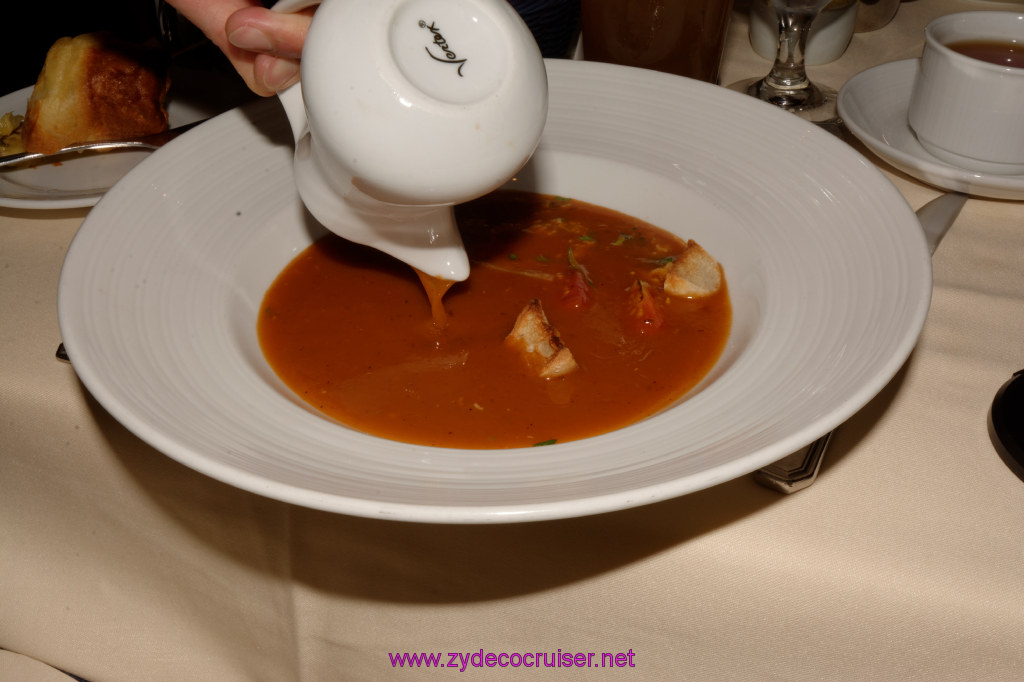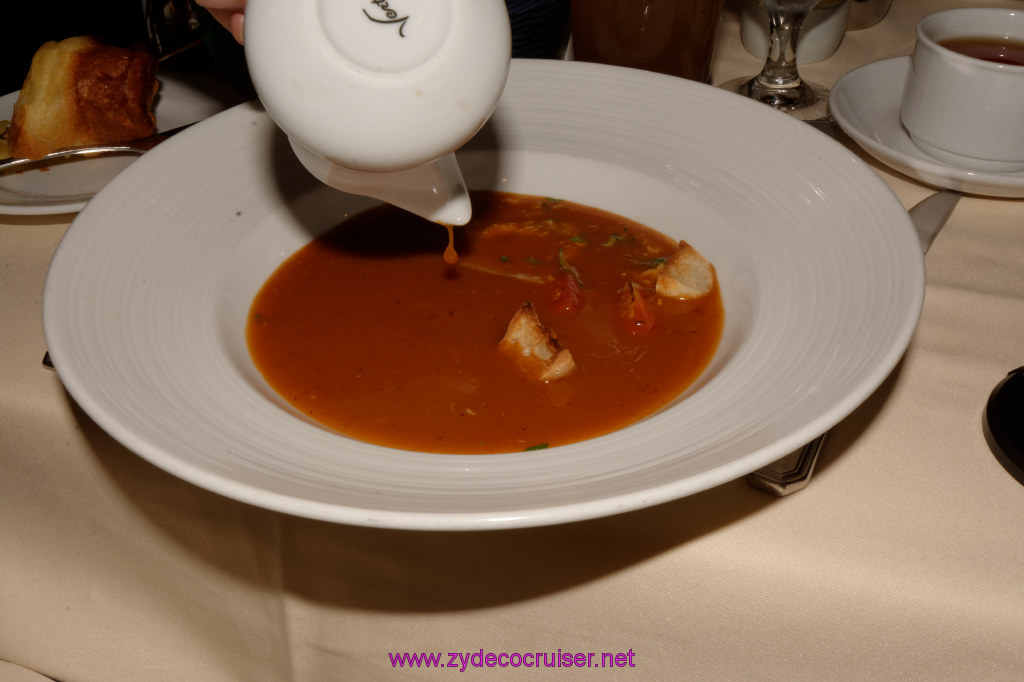 Fresh Fruit Platter, plain (no cottage cheese)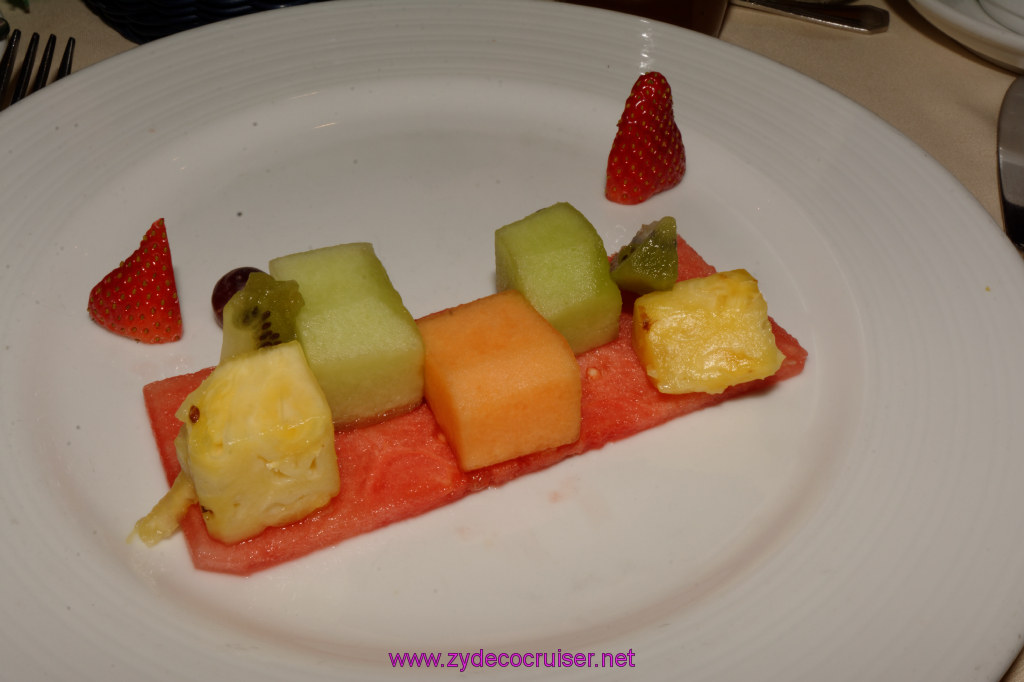 Pappardelle "Principe di Napoli"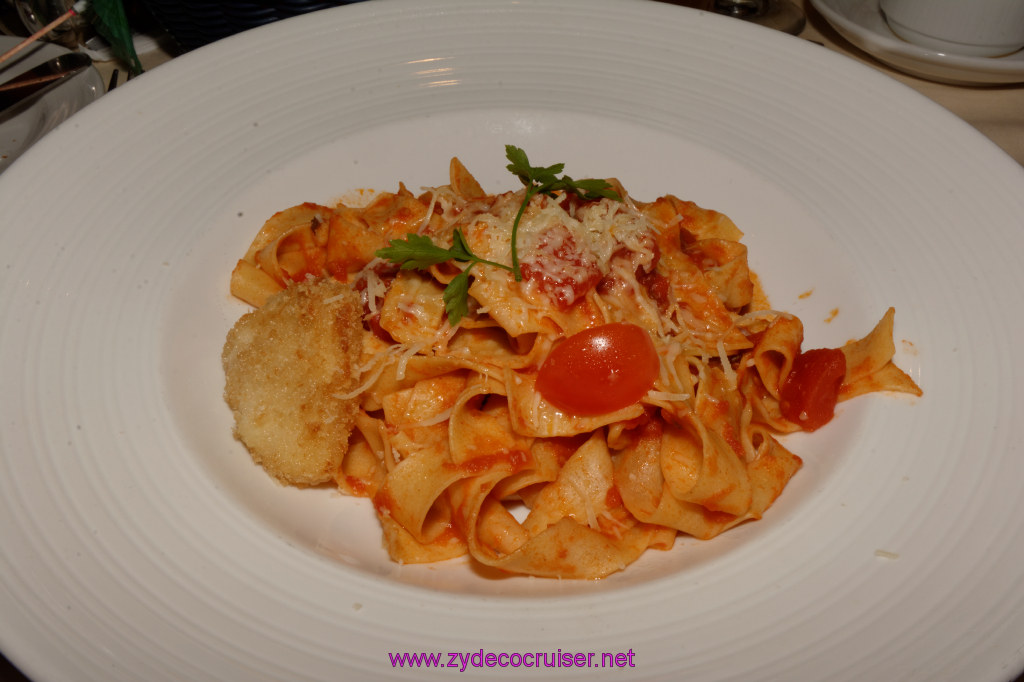 An off-menu Fruit Plate Dessert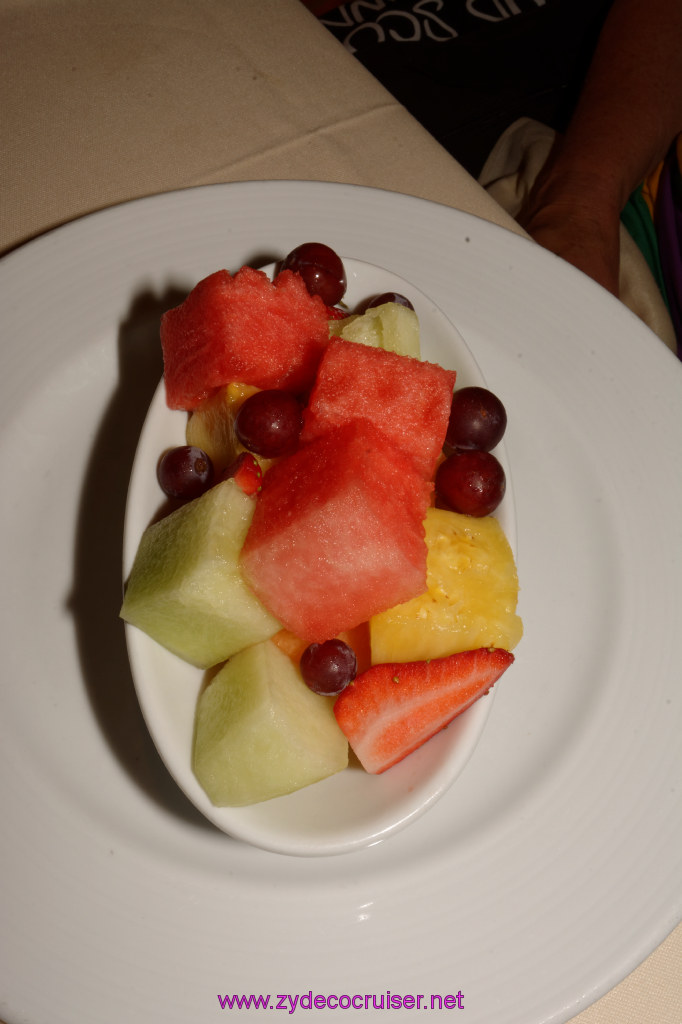 Caramelized Cheesecake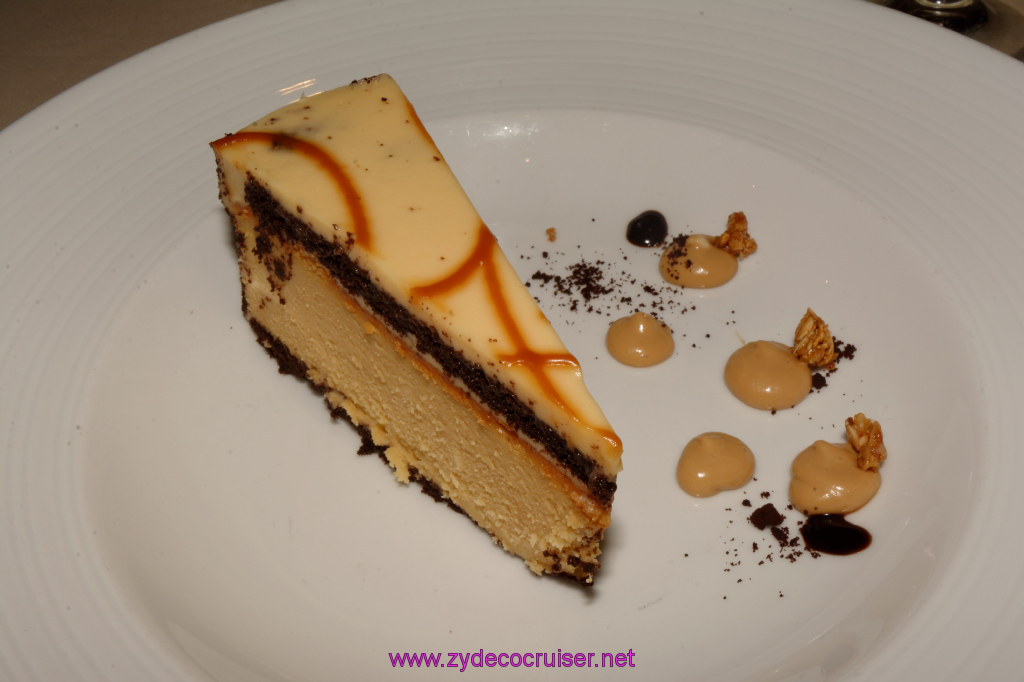 To some, I suppose martinis could be food!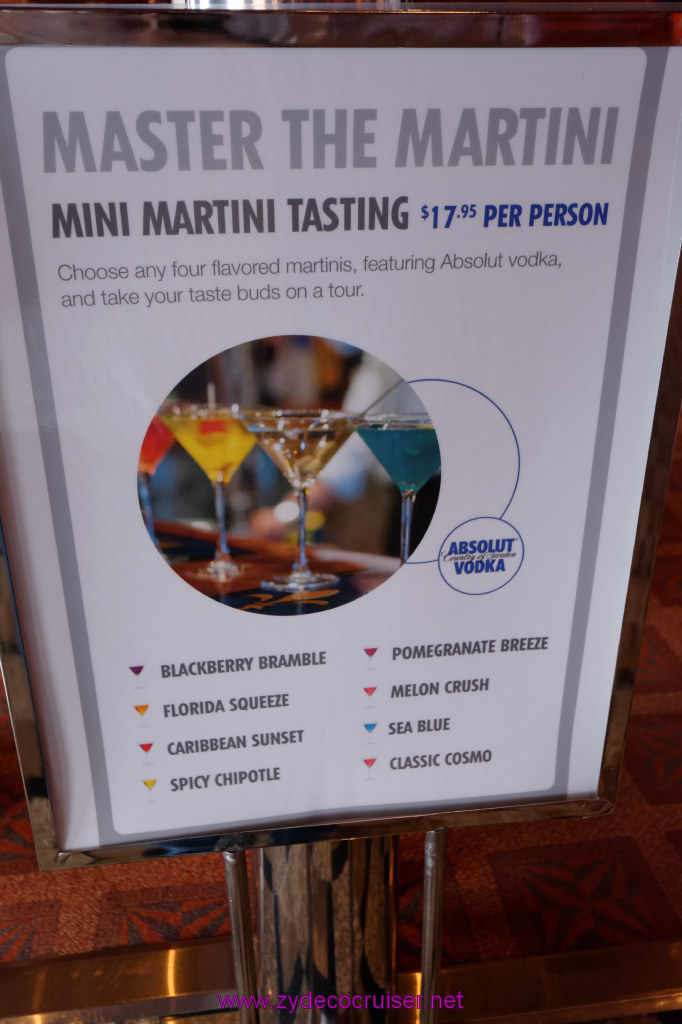 Tonight was elegant night.
Carnival Elation Night 2 MDR Menus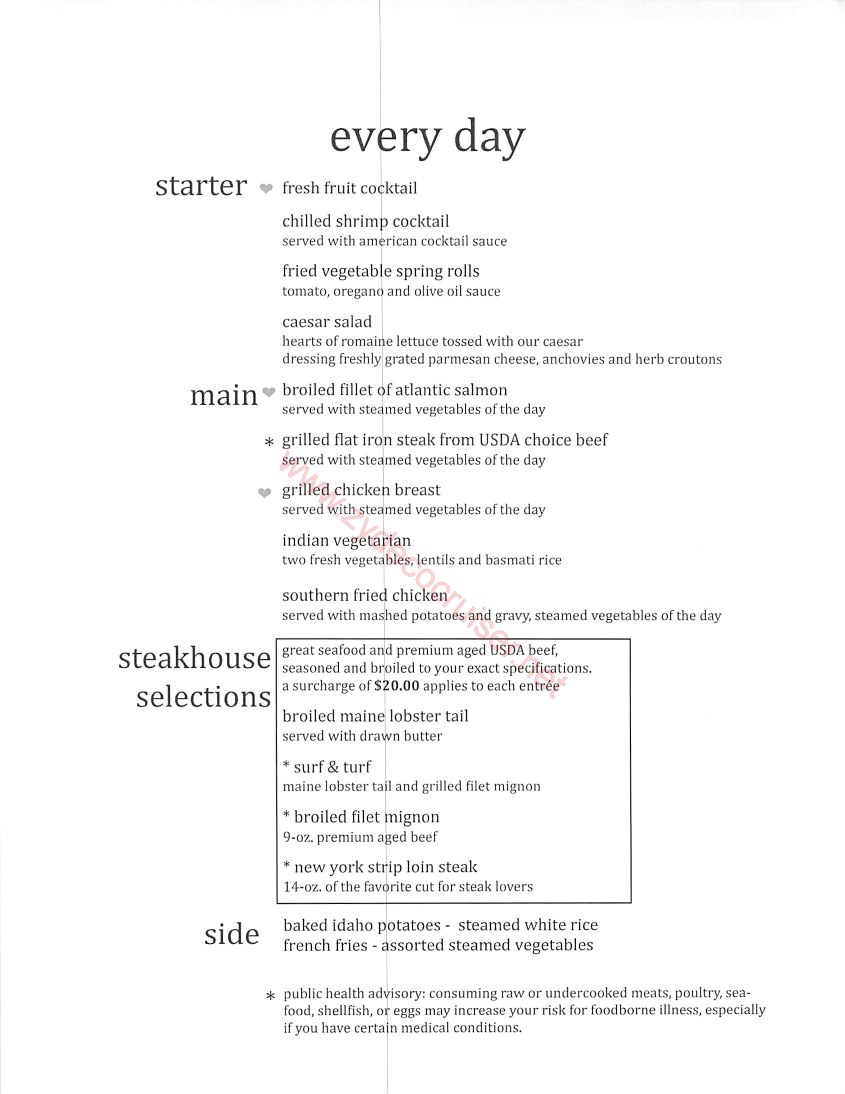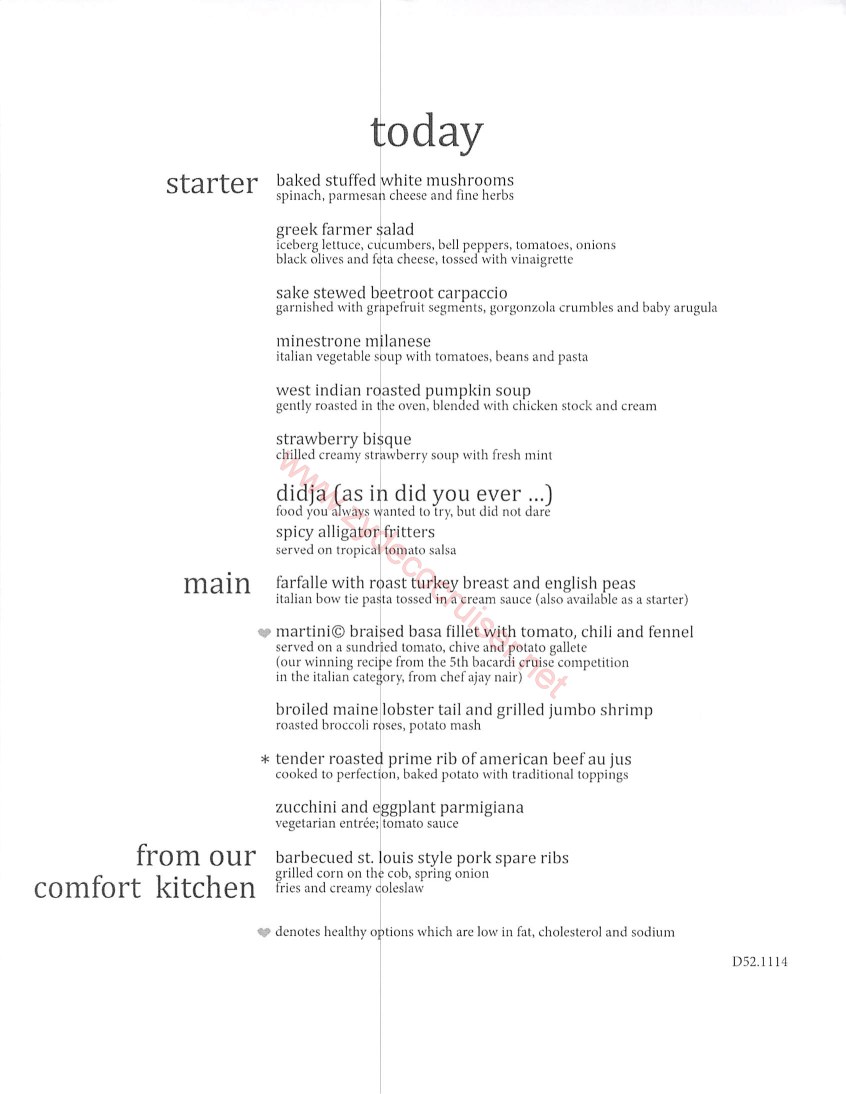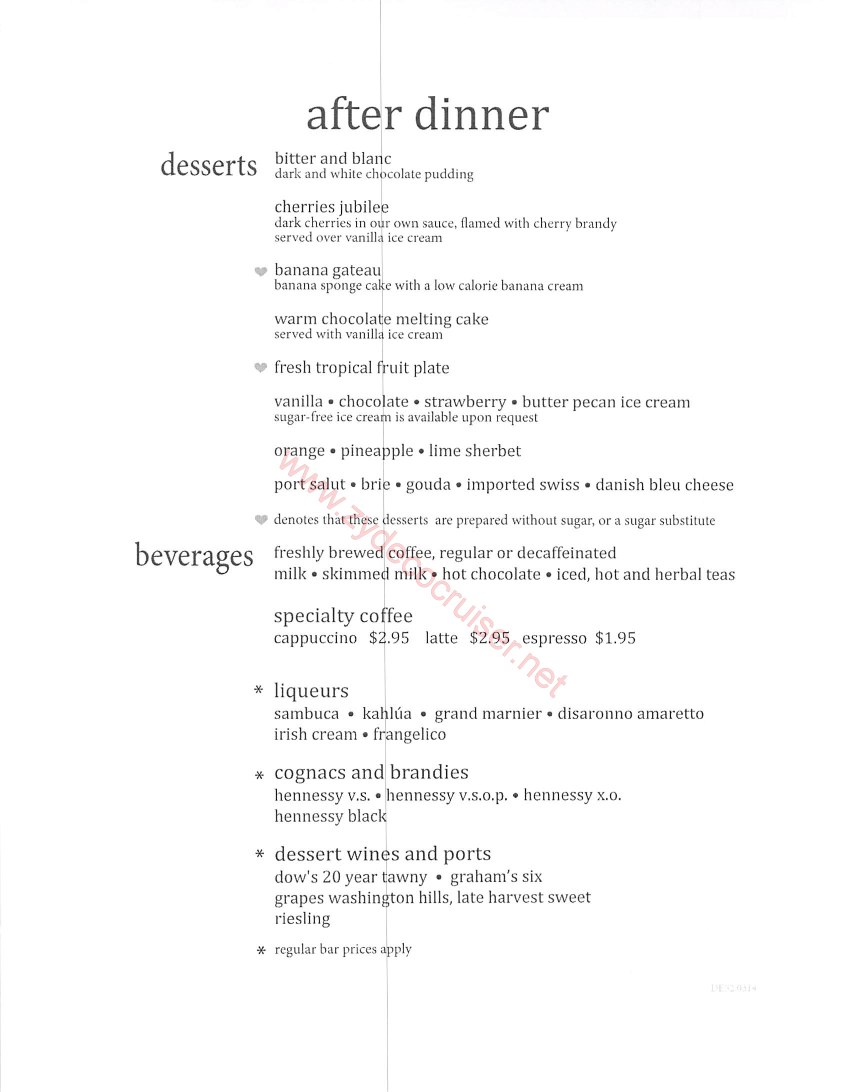 Baked Stuffed White Mushrooms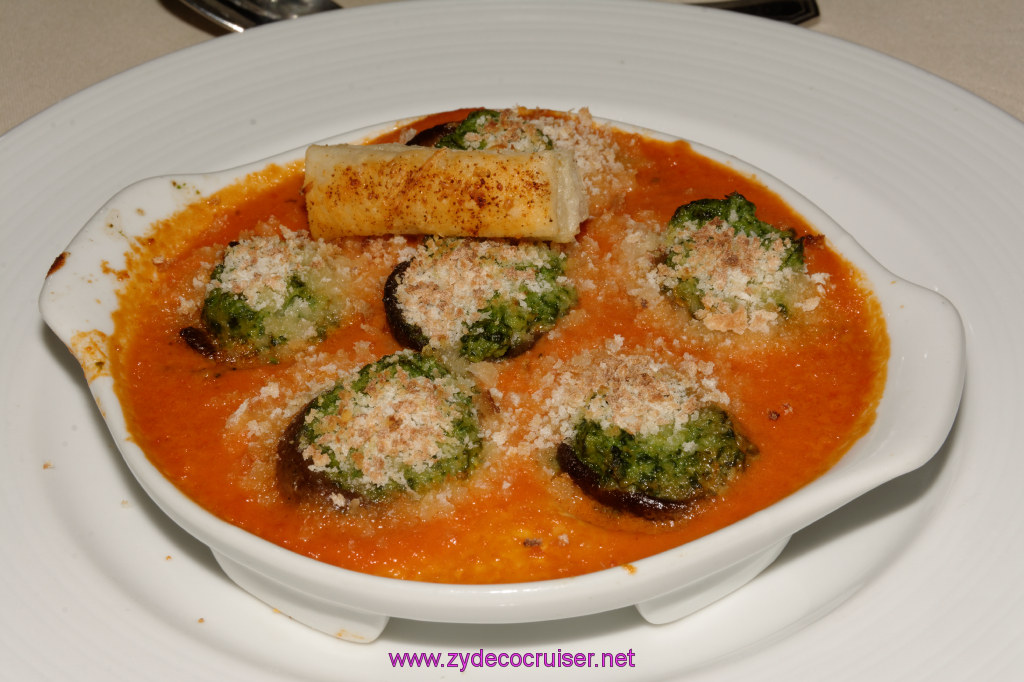 Greek Farmer Salad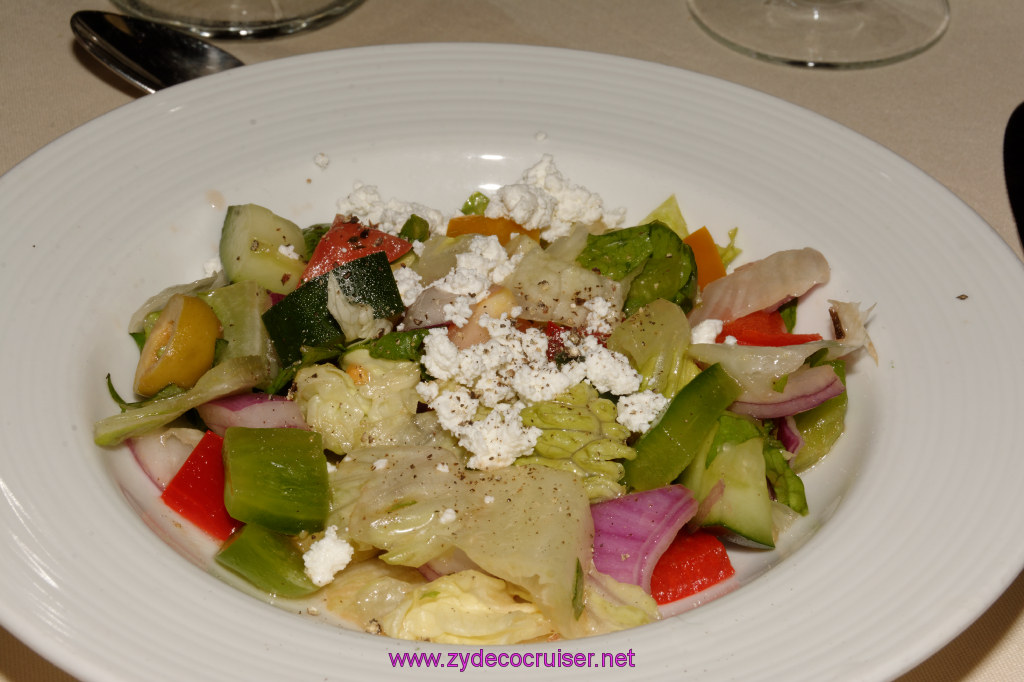 Tender Roasted Prime Rib of American Beef au jus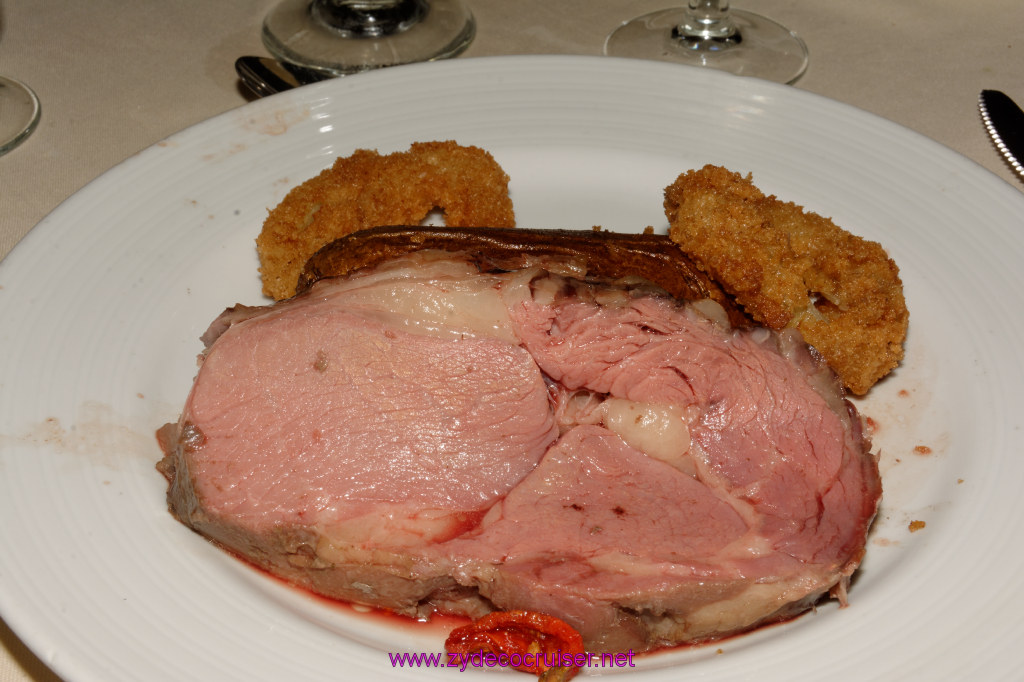 add horseradish!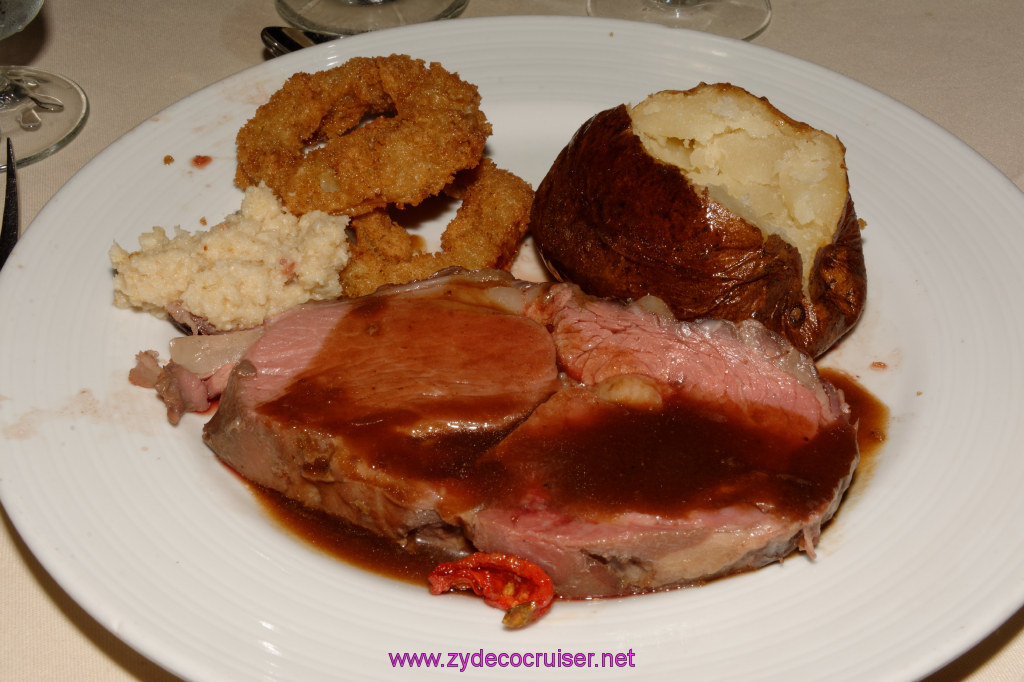 Bitter and Blanc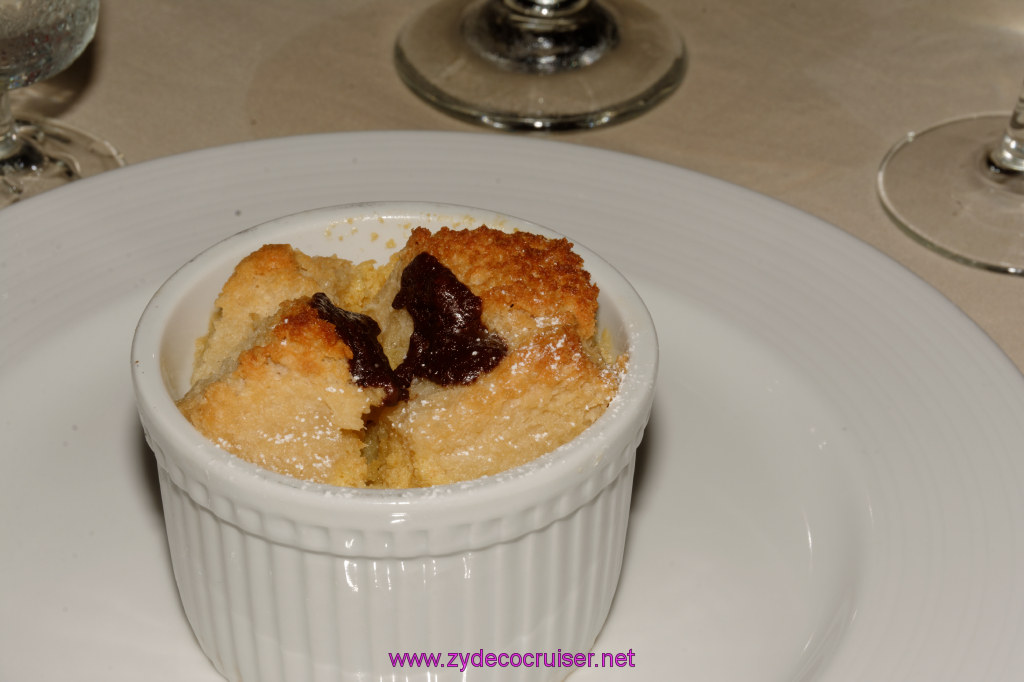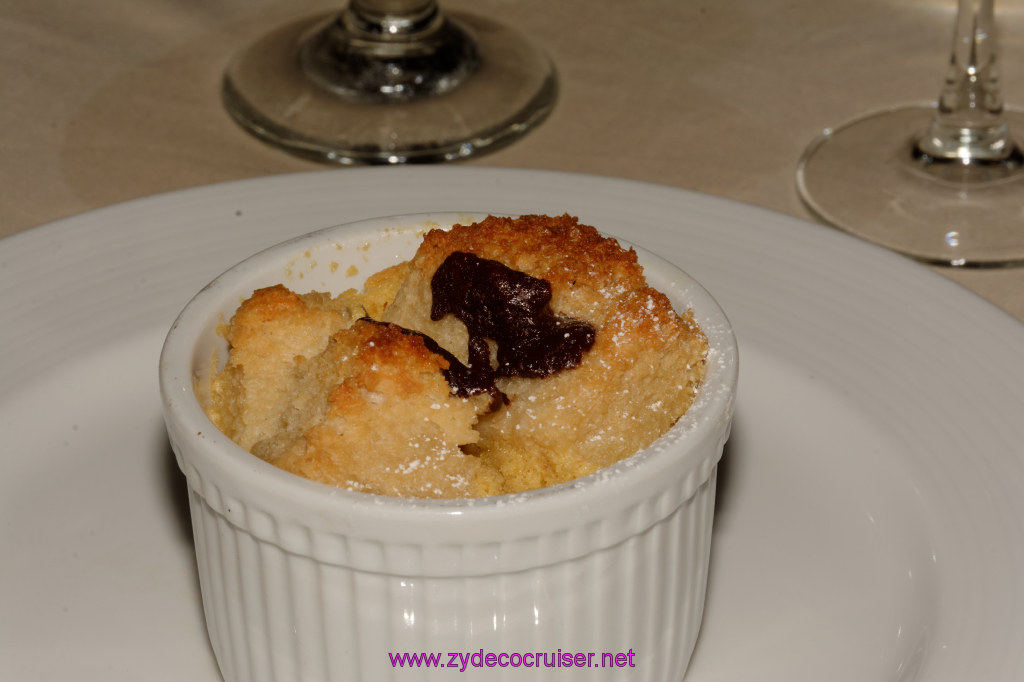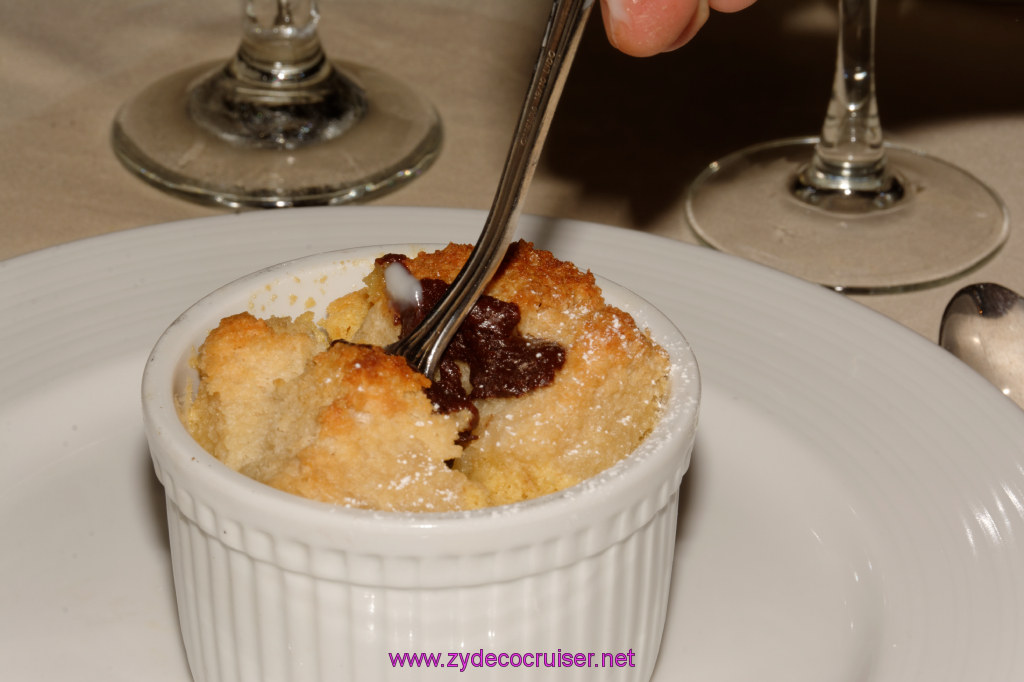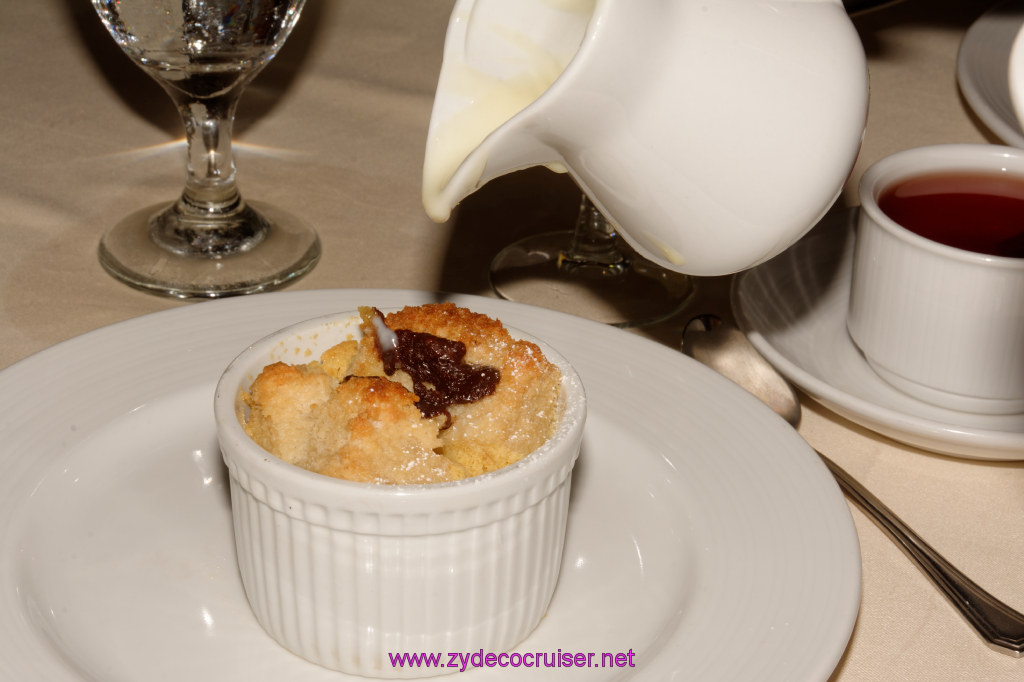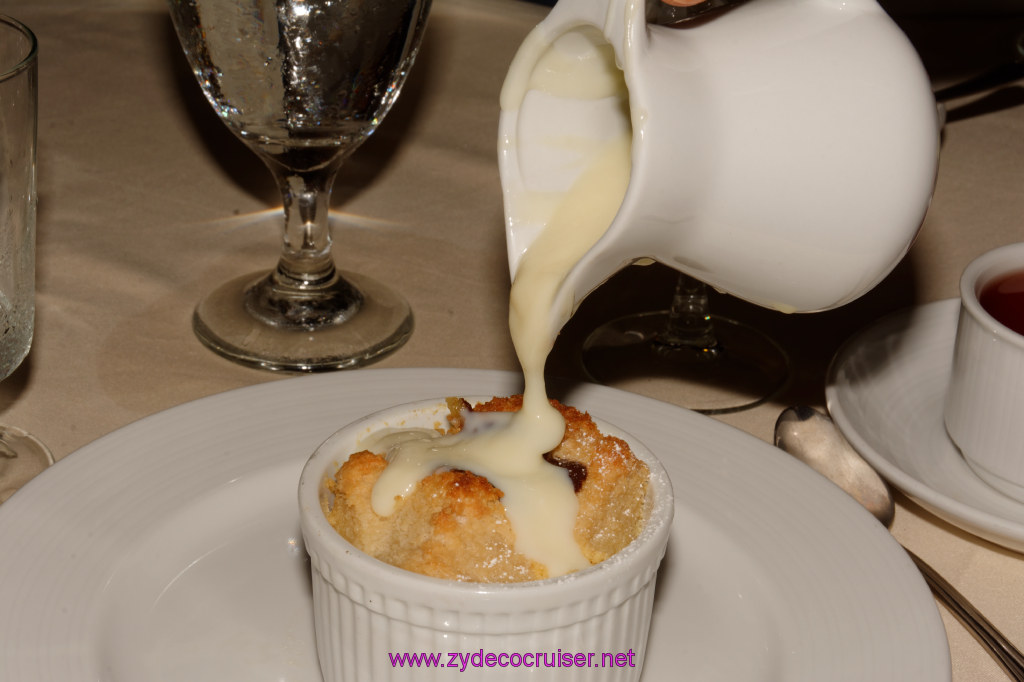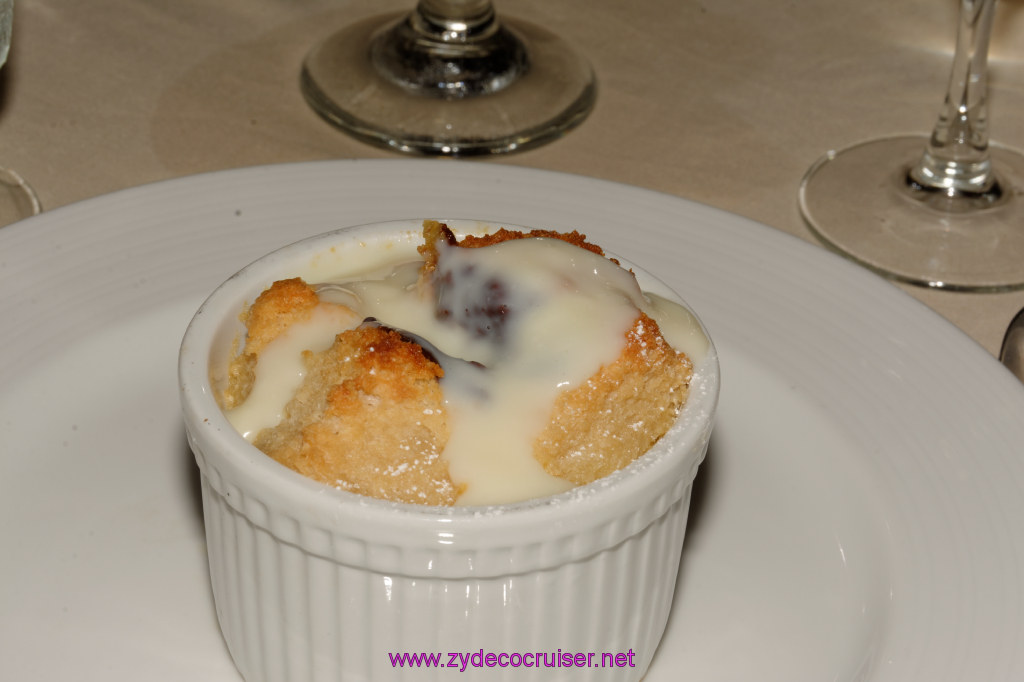 [The pizzeria on Elation is called Pizza Pirate, but is still the old style pizza. I very much prefer the new pizza on other Carnival ships, but do like that calzones and goat cheese pizza are still available on Elation.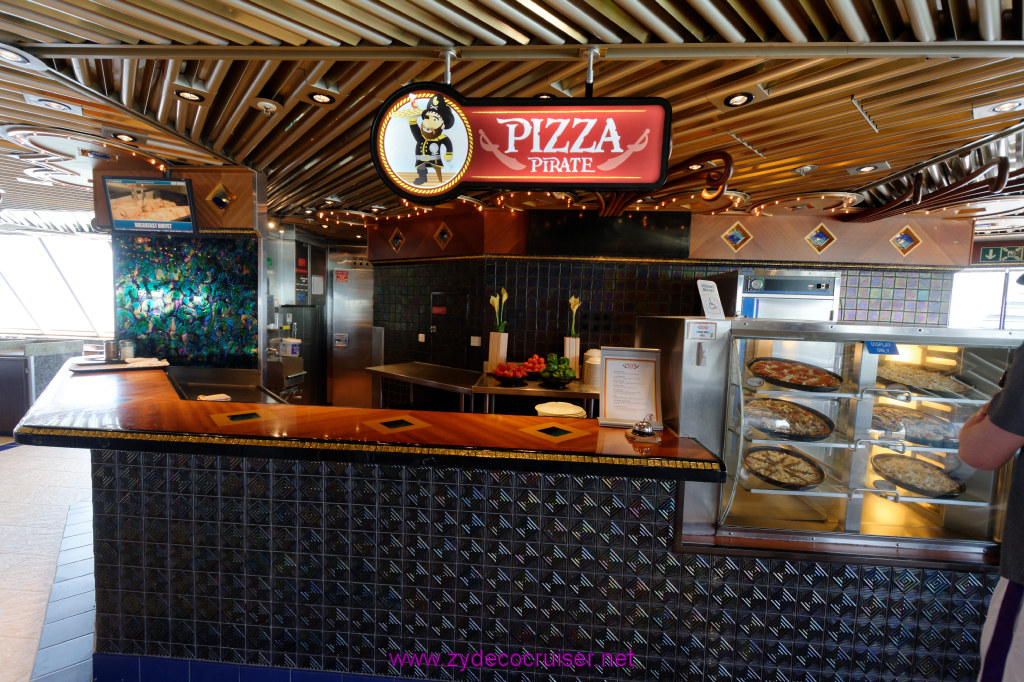 The Deli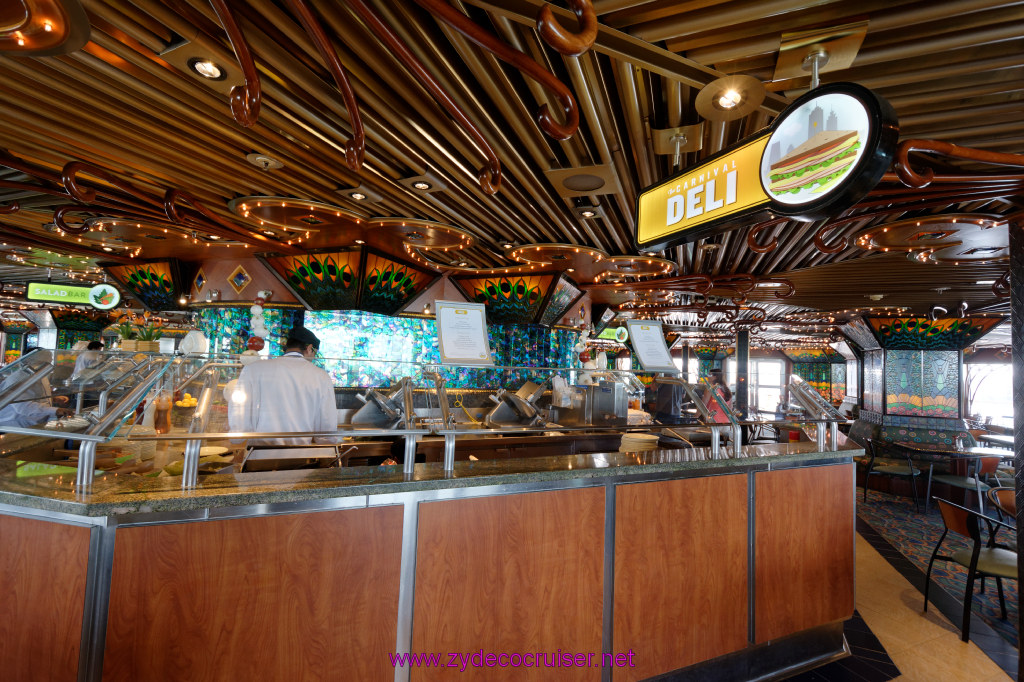 No Guy's Burgers on Elation but the Grill still has a Garden Burger and a Chicken Burger
and Elation still has trays - a least for now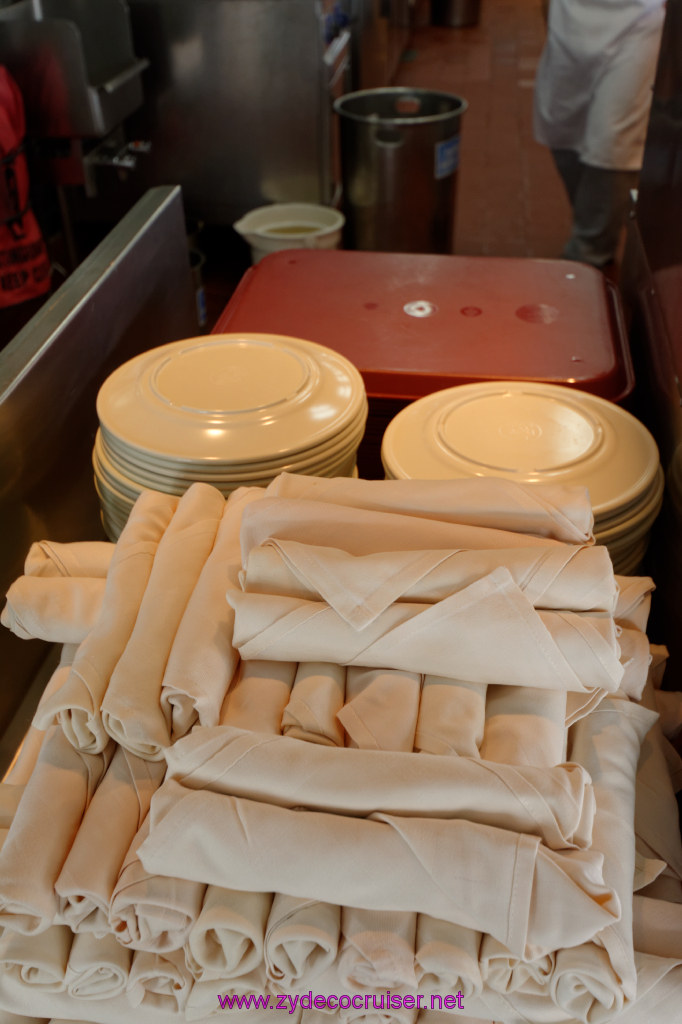 But I was in the mood for a little breakfast, so made a bacon sandwich (Oink!), some potatoes, and some sausages. Note that bacon police or no, you can have as much bacon as you want.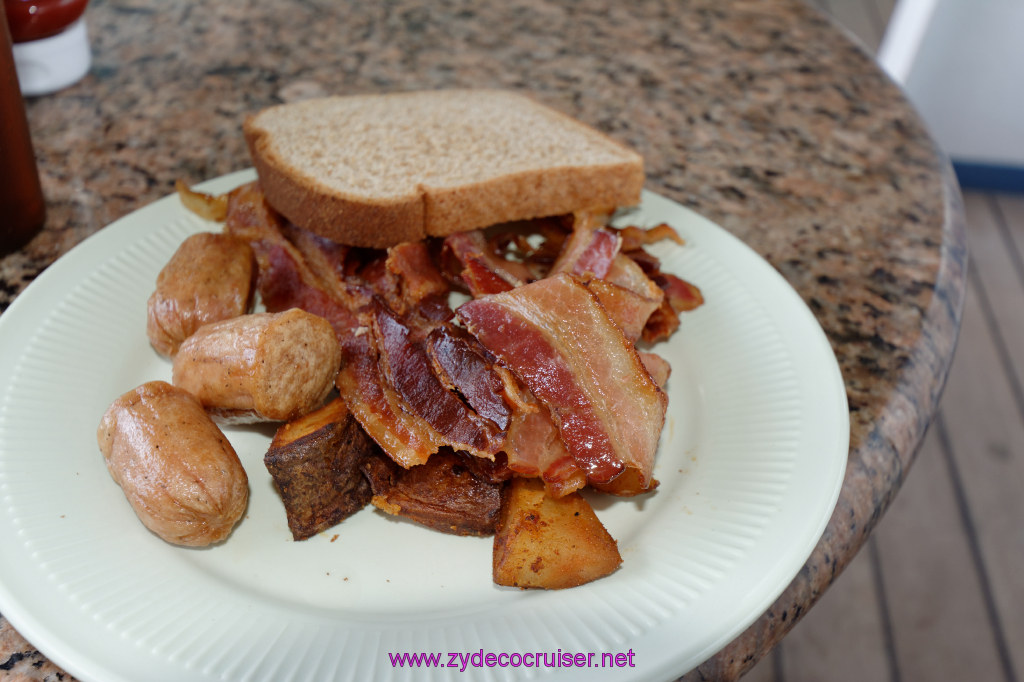 The Taste Bar menu for the cruise: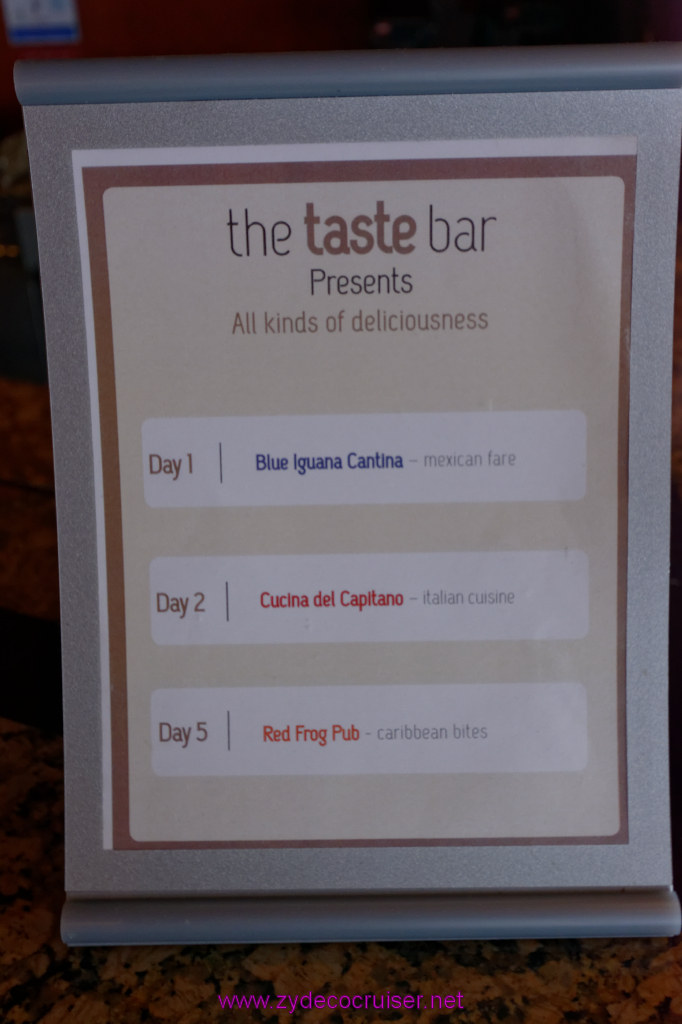 No lack of drinks at the VIFP Party (when Golds were still allowed in)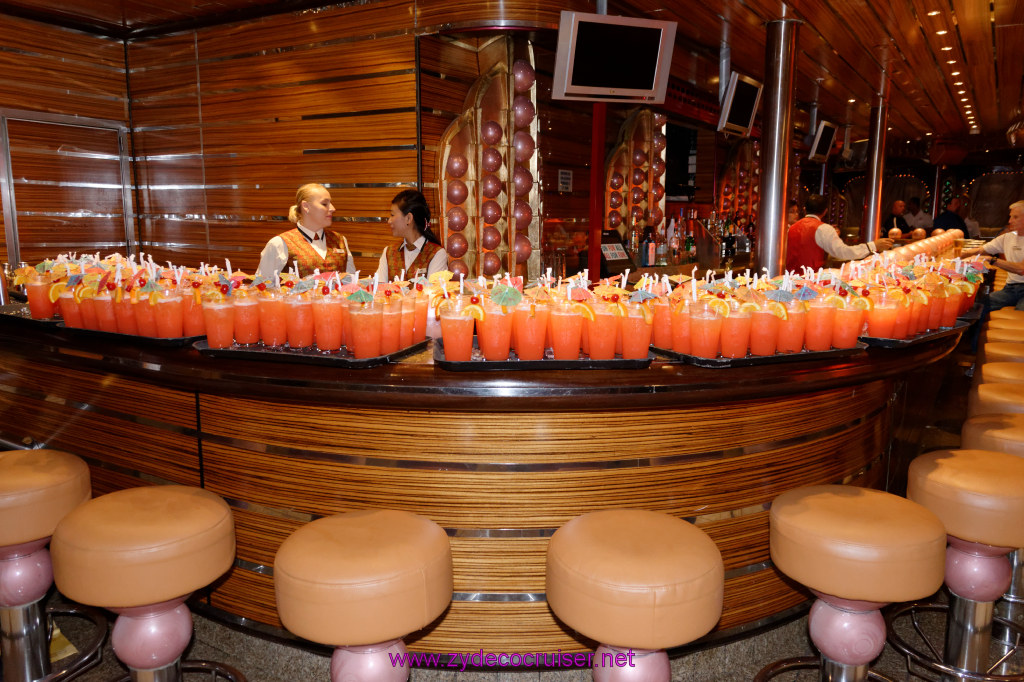 Carnival Elation Night 3 MDR Menus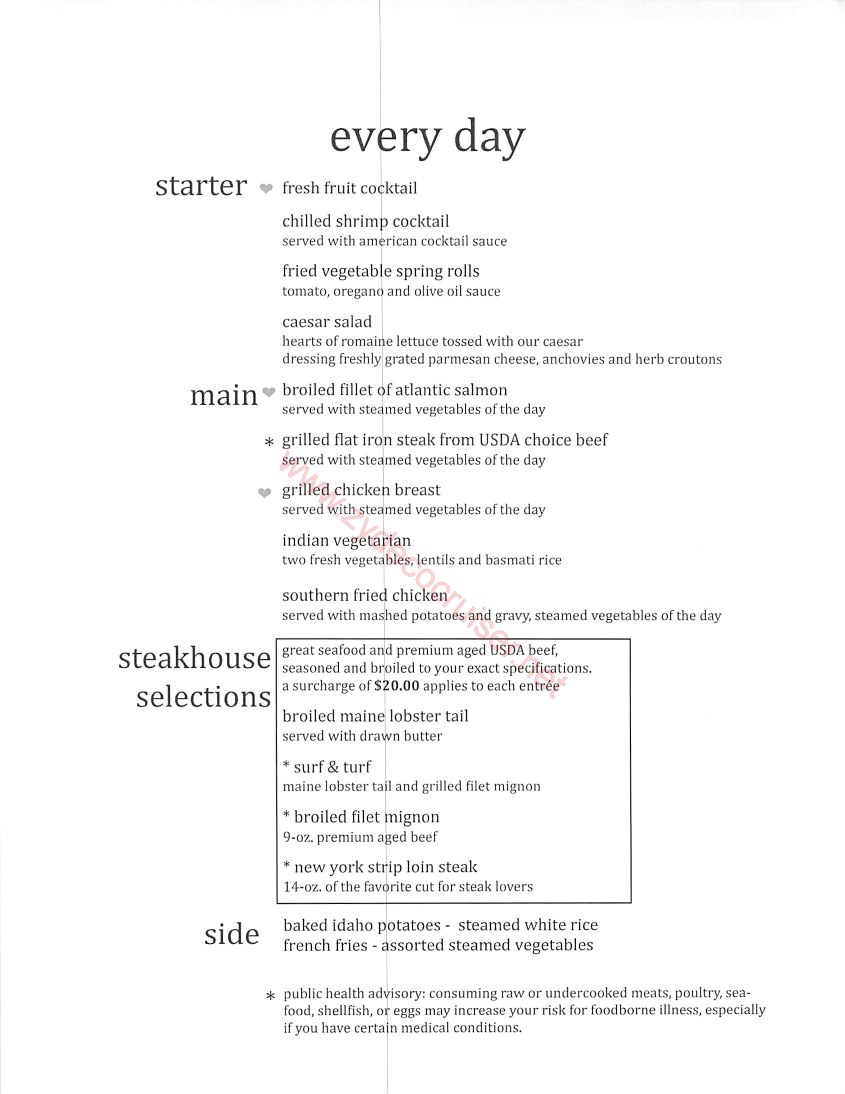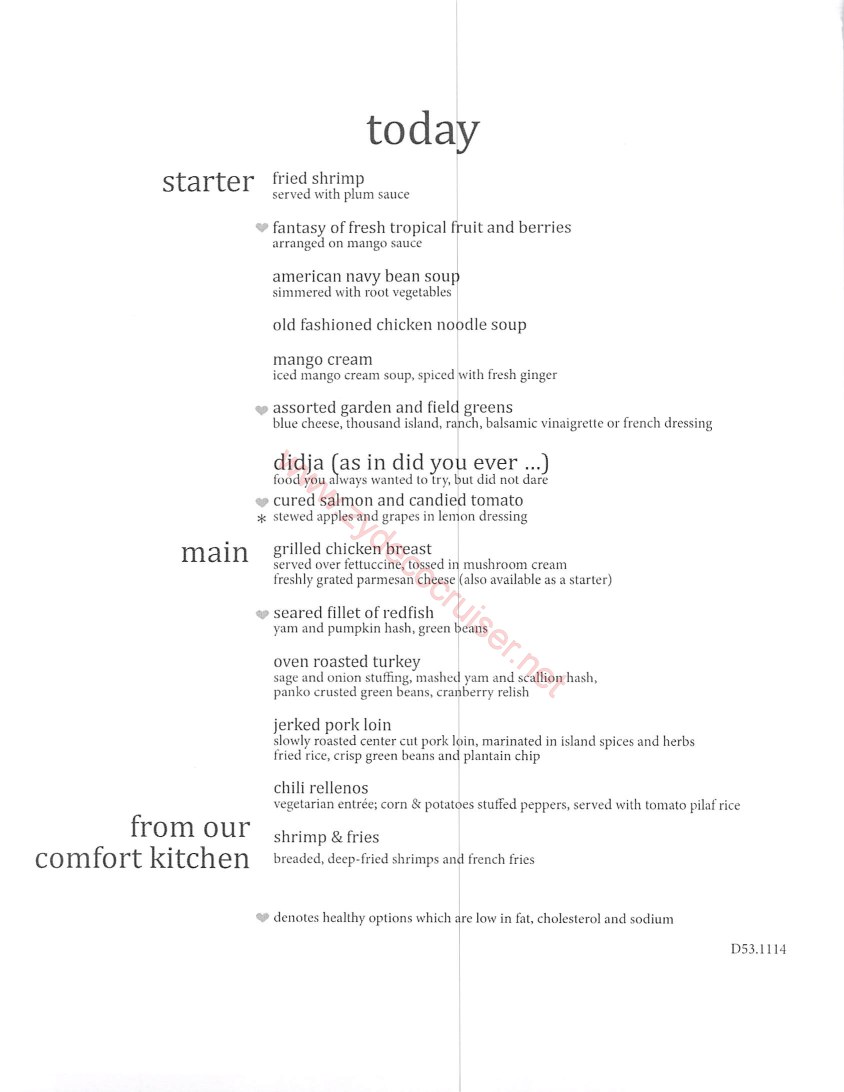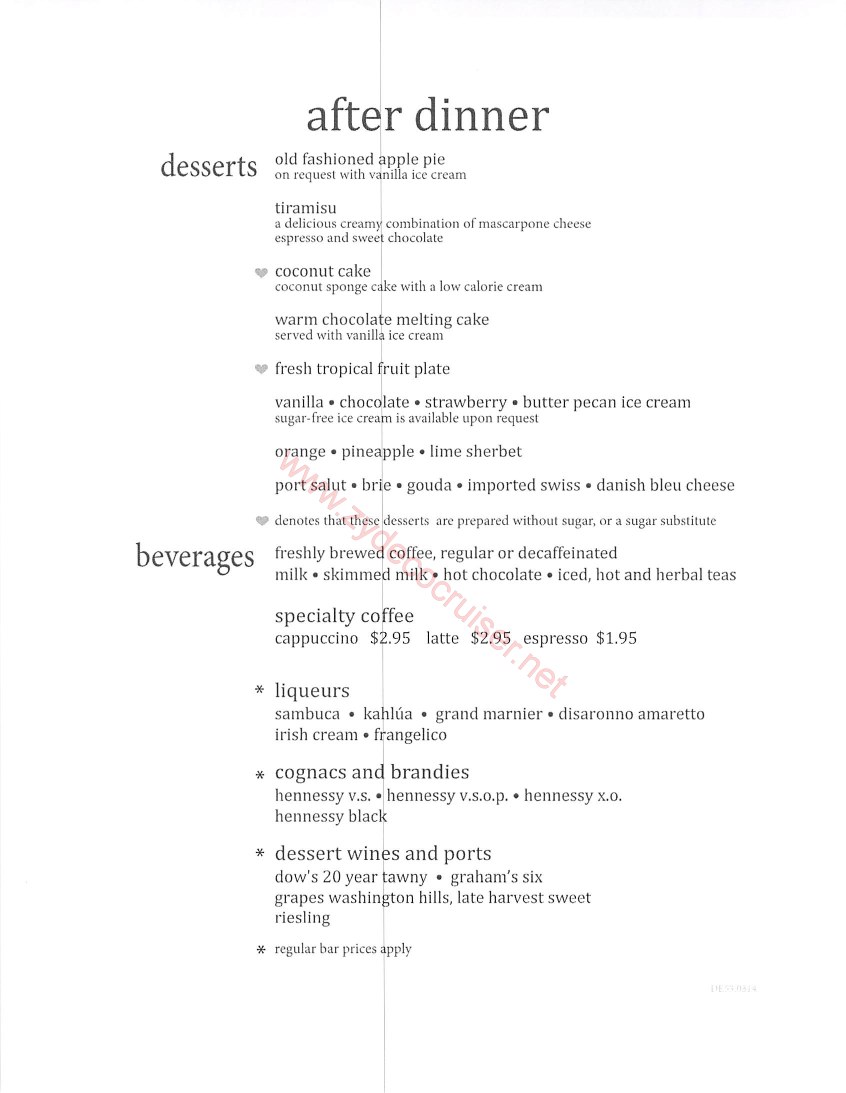 Grilled Chicken Breast Served over Fettuccine, starter portion
Fried Shrimp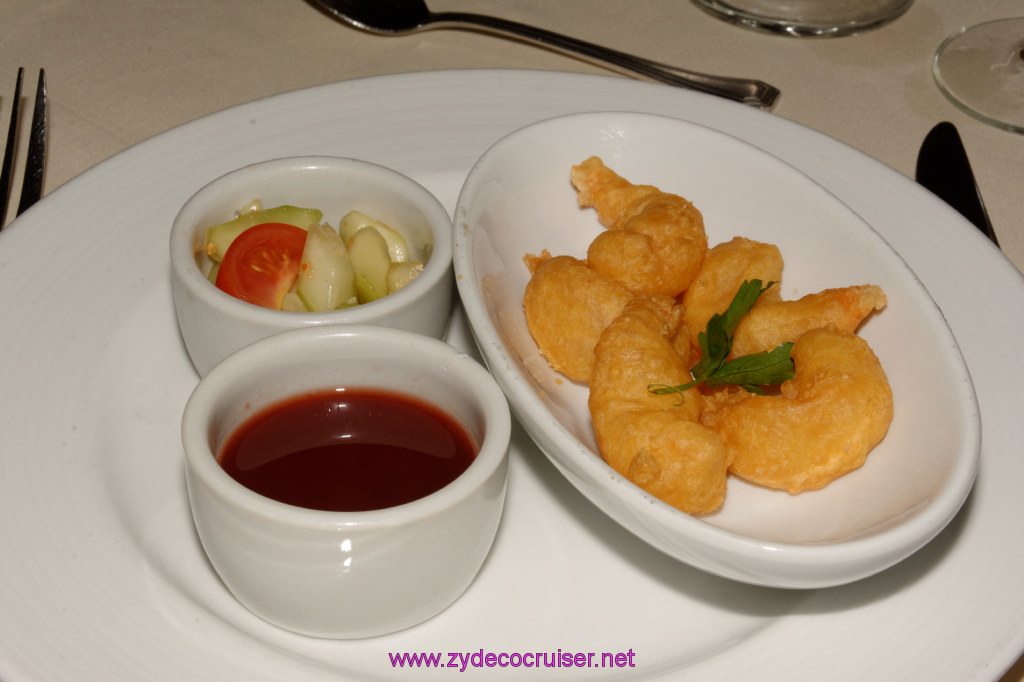 Old Fashioned Chicken Noodle Soup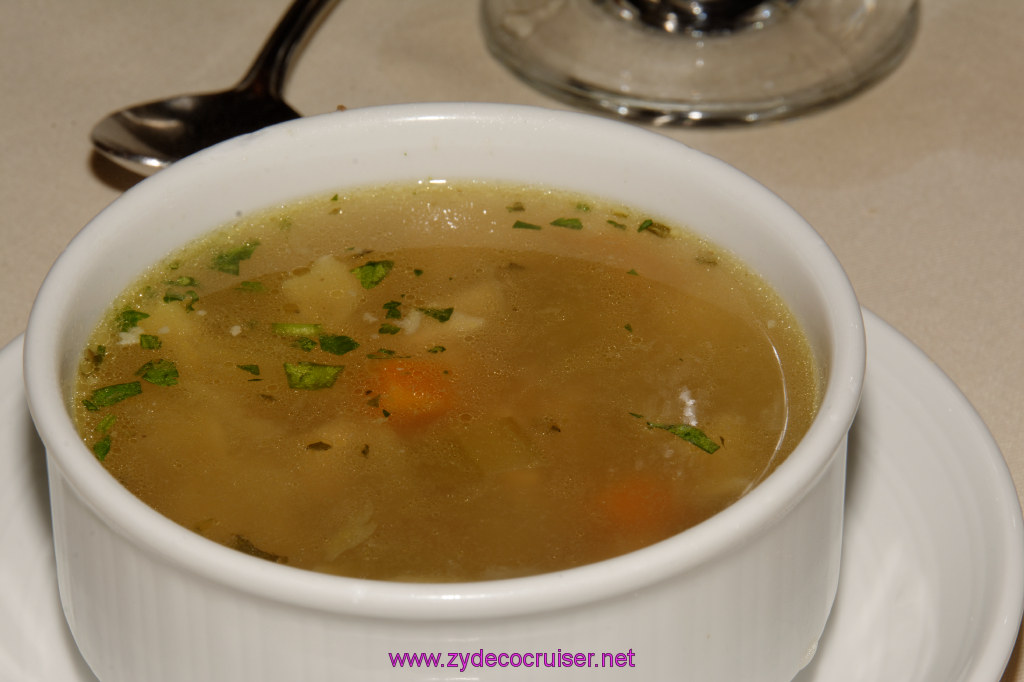 Jerked Pork Loin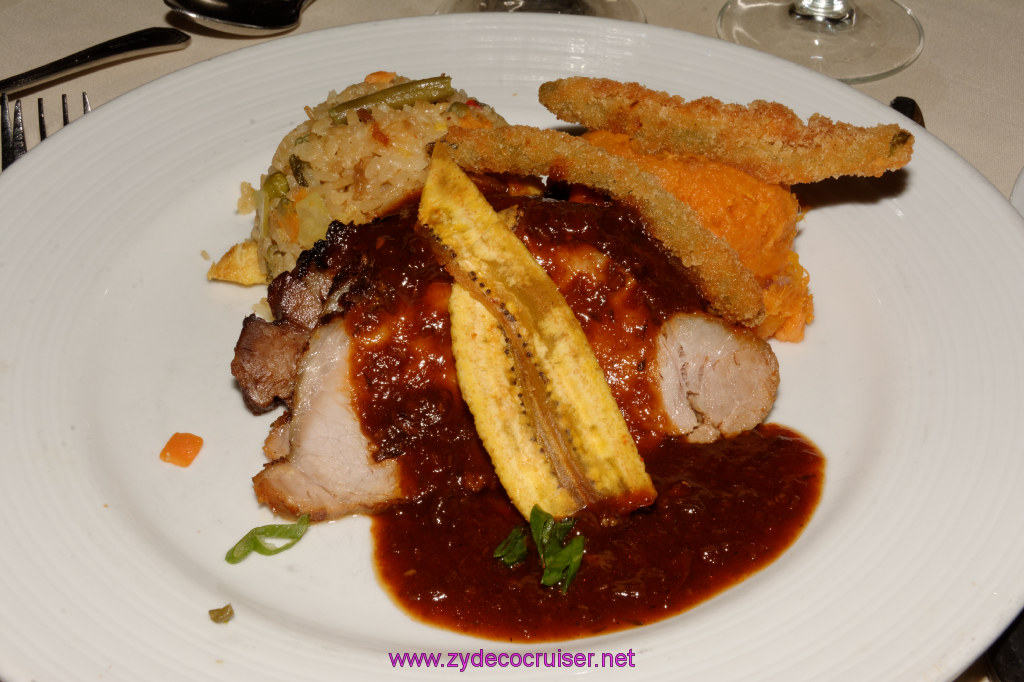 Some birthday cake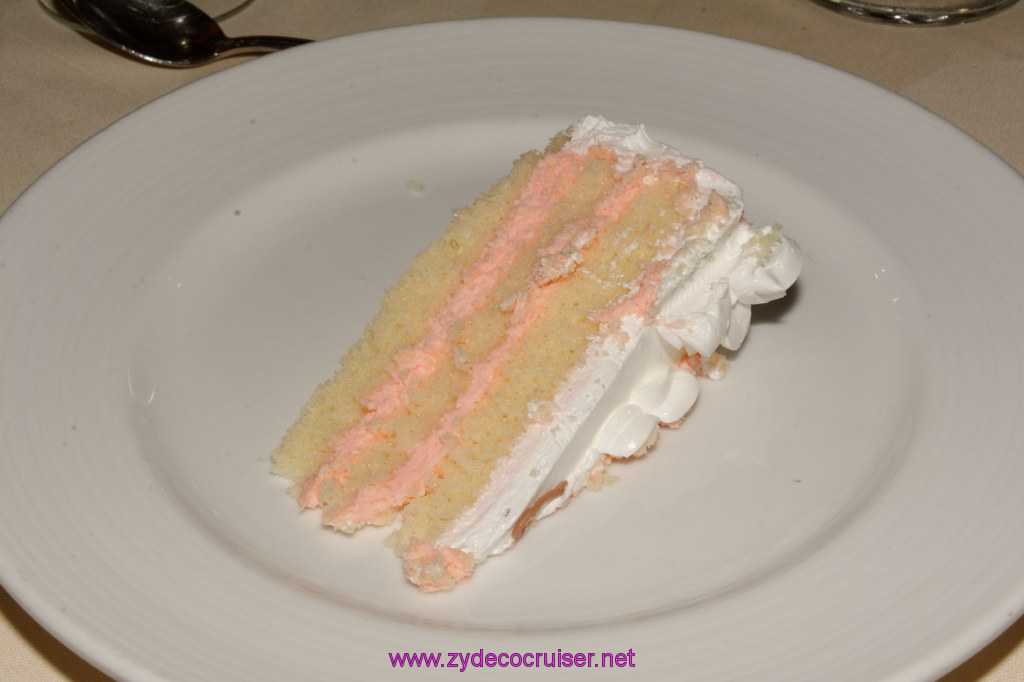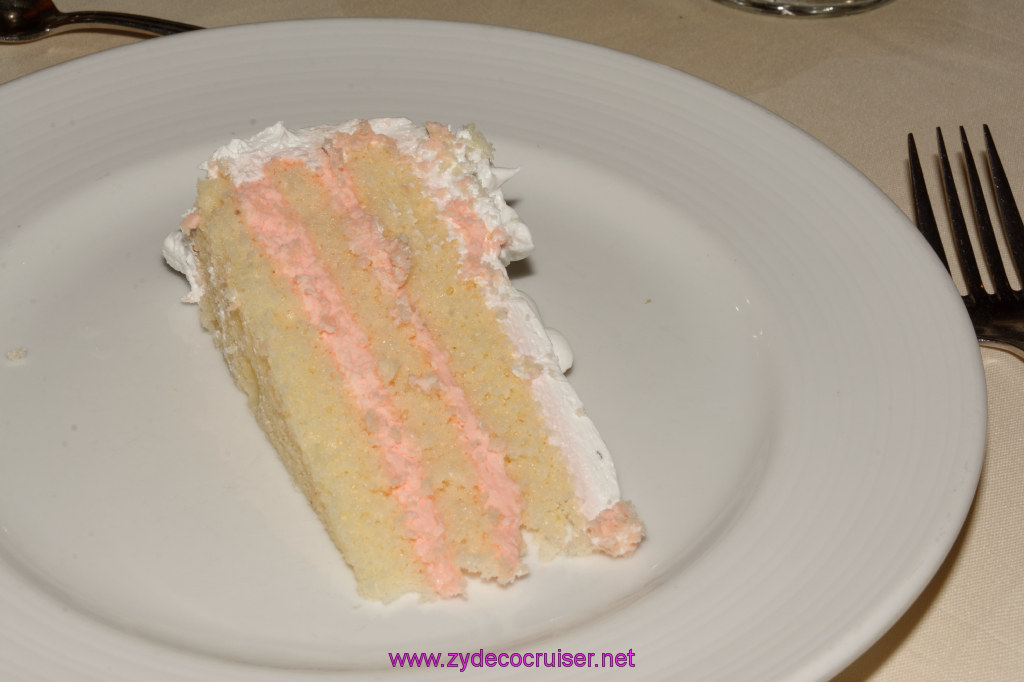 and, of course, some tiramisu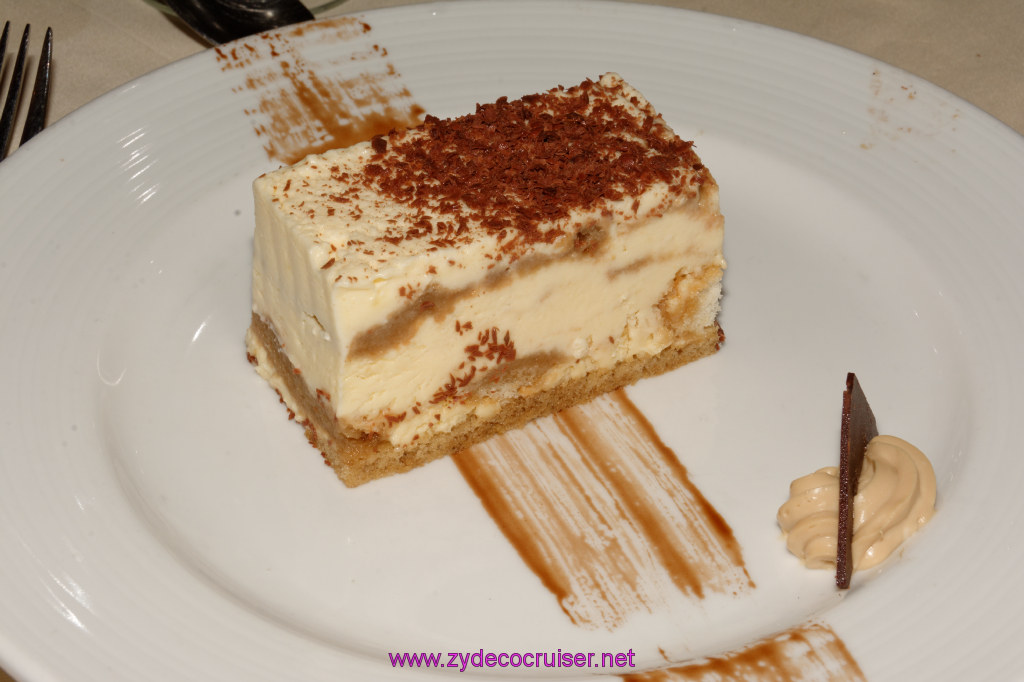 Taste Bar Nights and Selections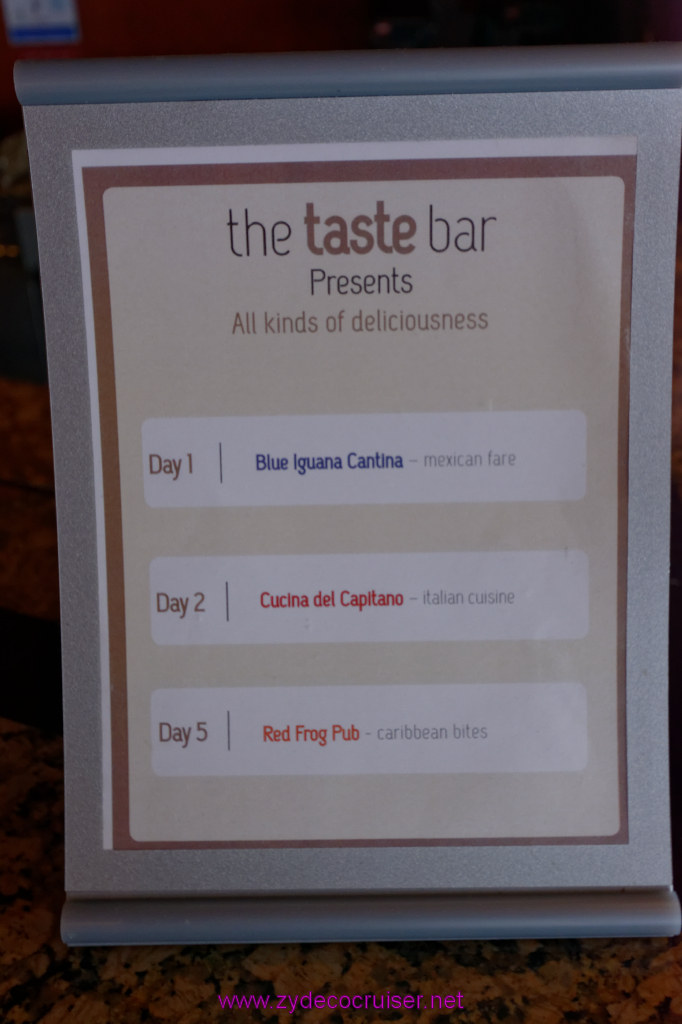 Carnival Elation Night 4 MDR Menus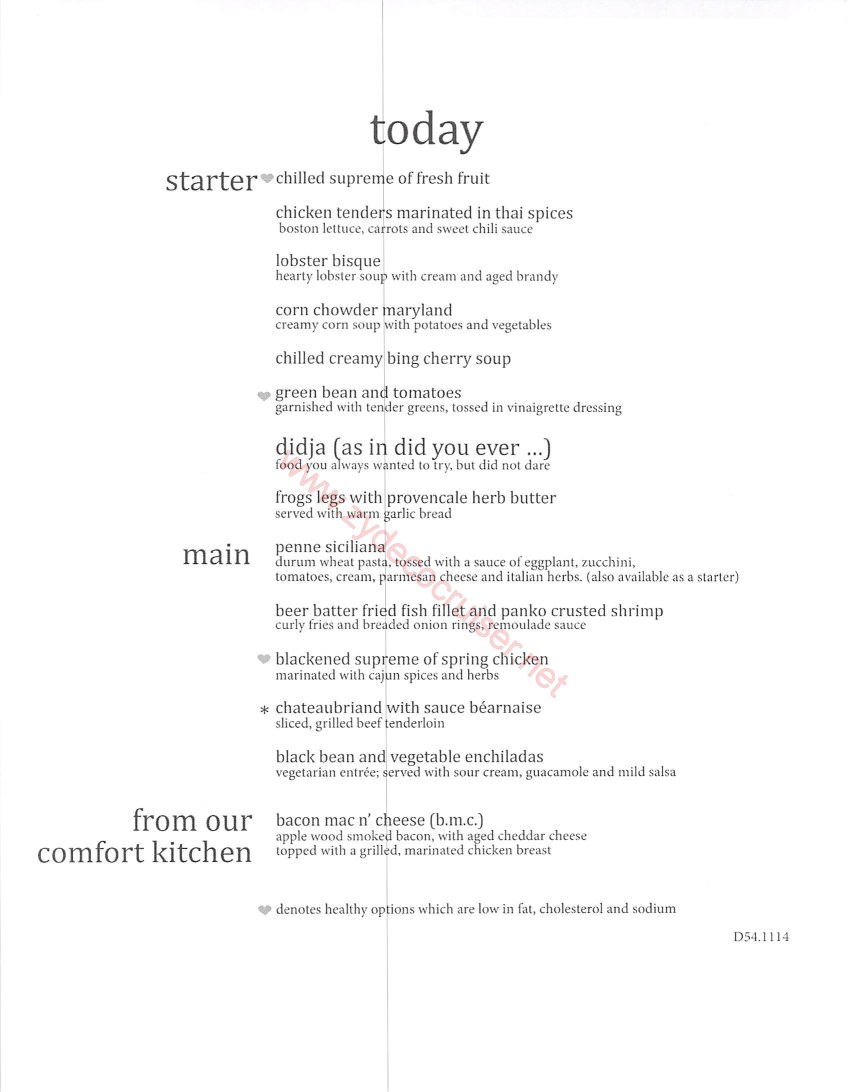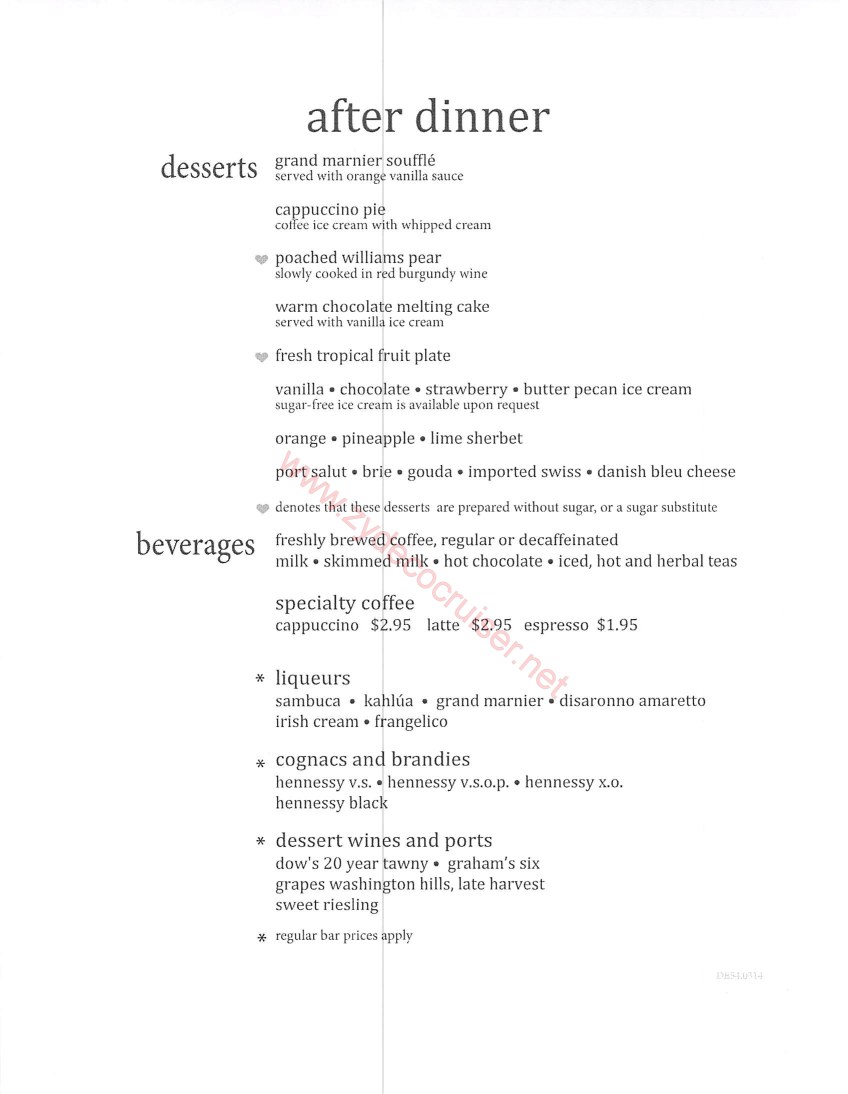 Penne Siciliana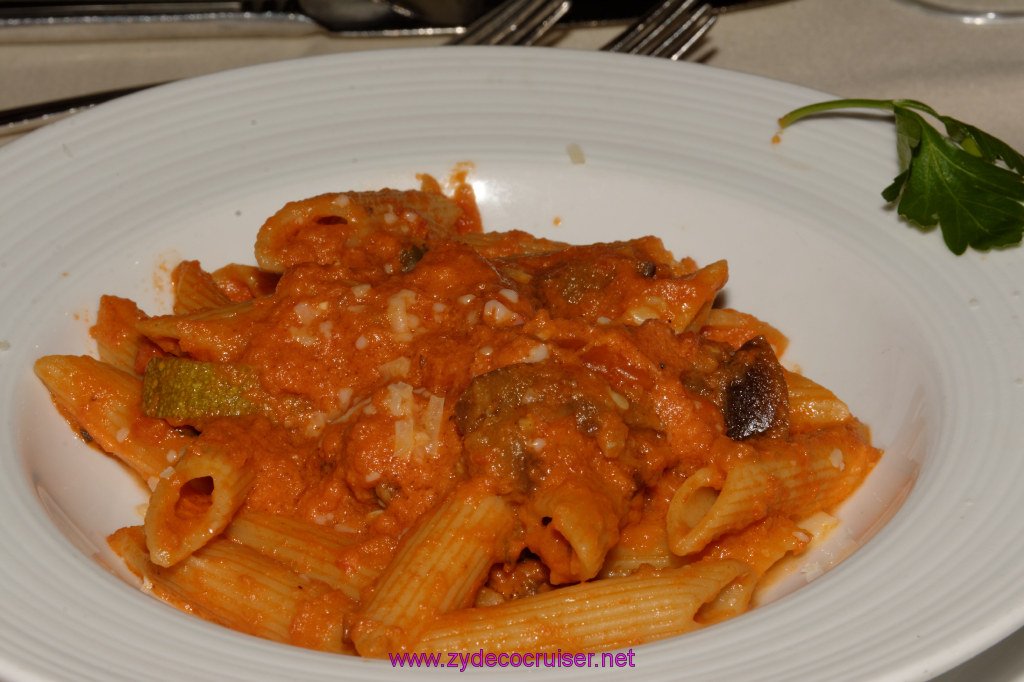 Chilled Supreme of Fresh Fruit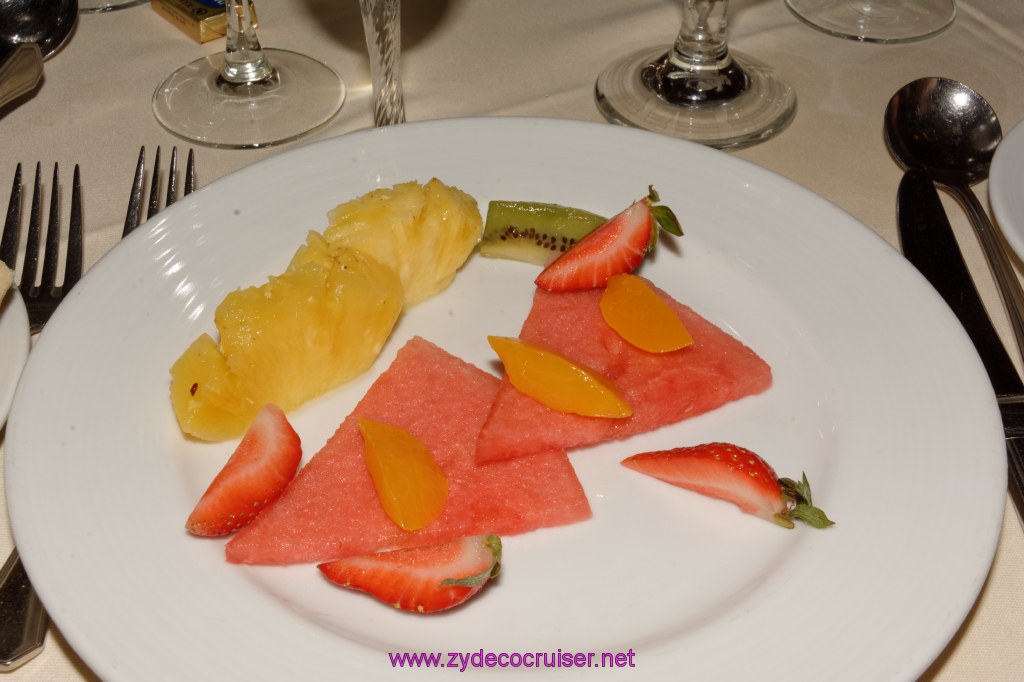 Chicken Tenders Marinated in Thai Spices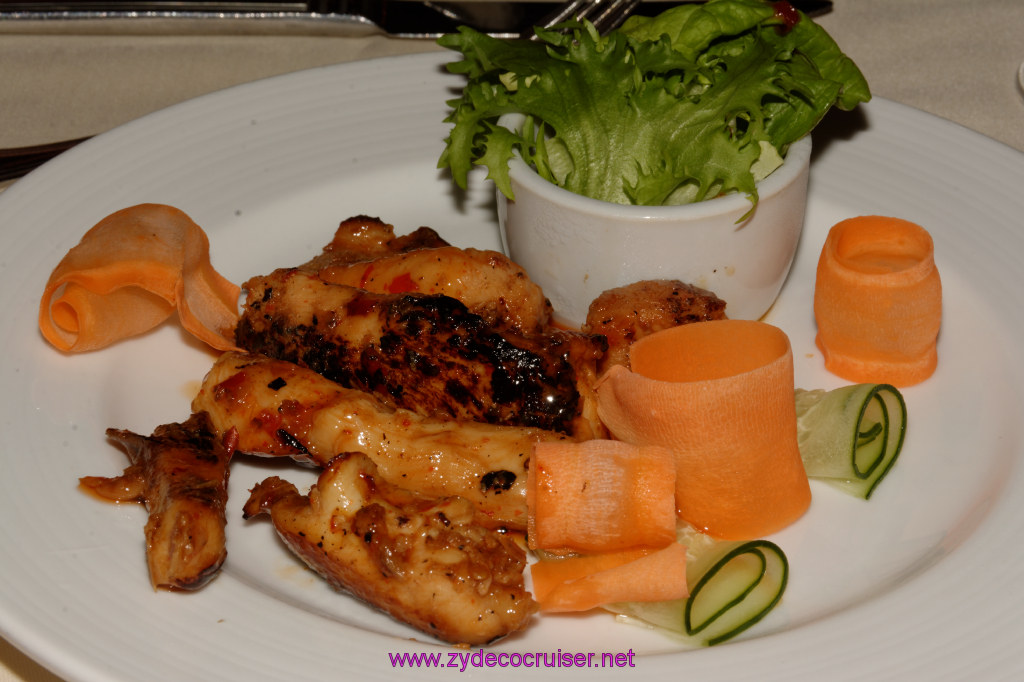 Lobster Bisque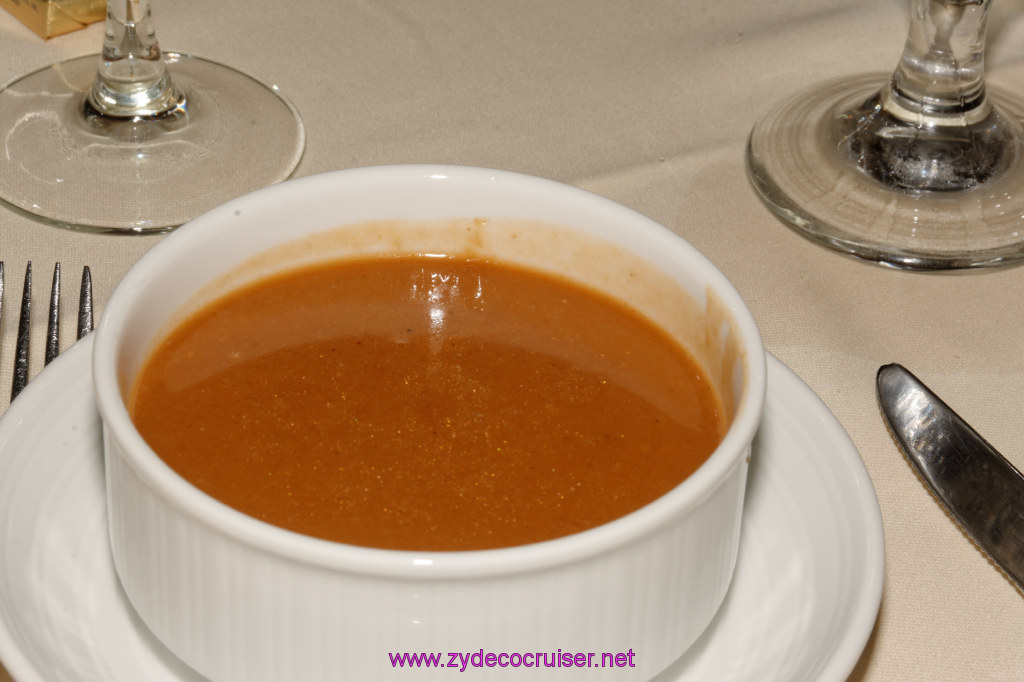 Green Bean and Tomatoes Salad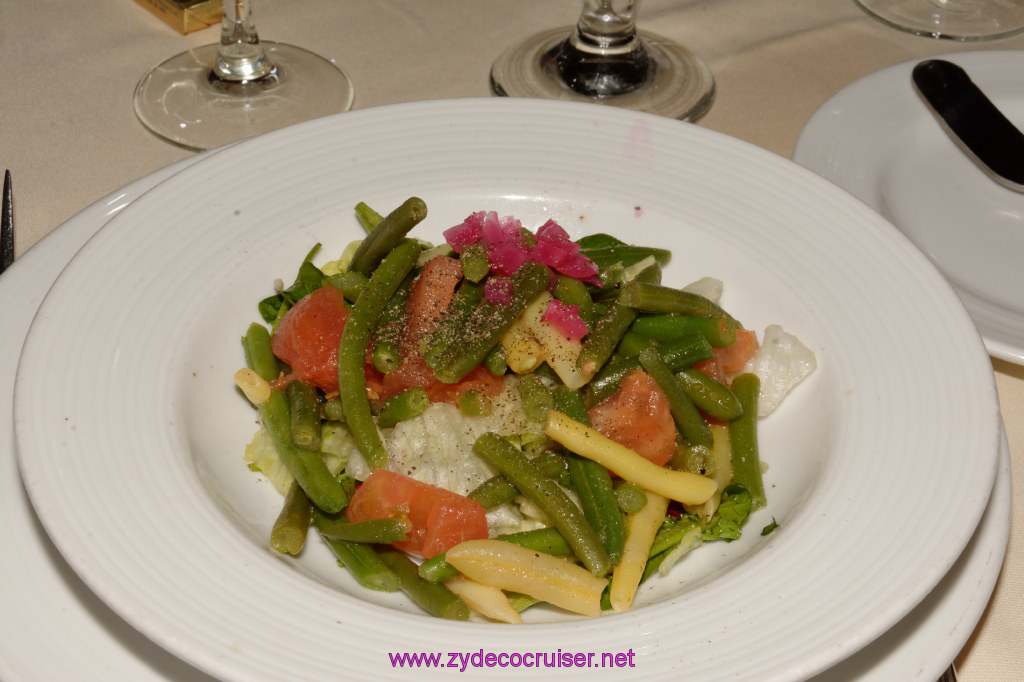 Beer Batter Fried Fish Filet and Panko Crusted Shrimp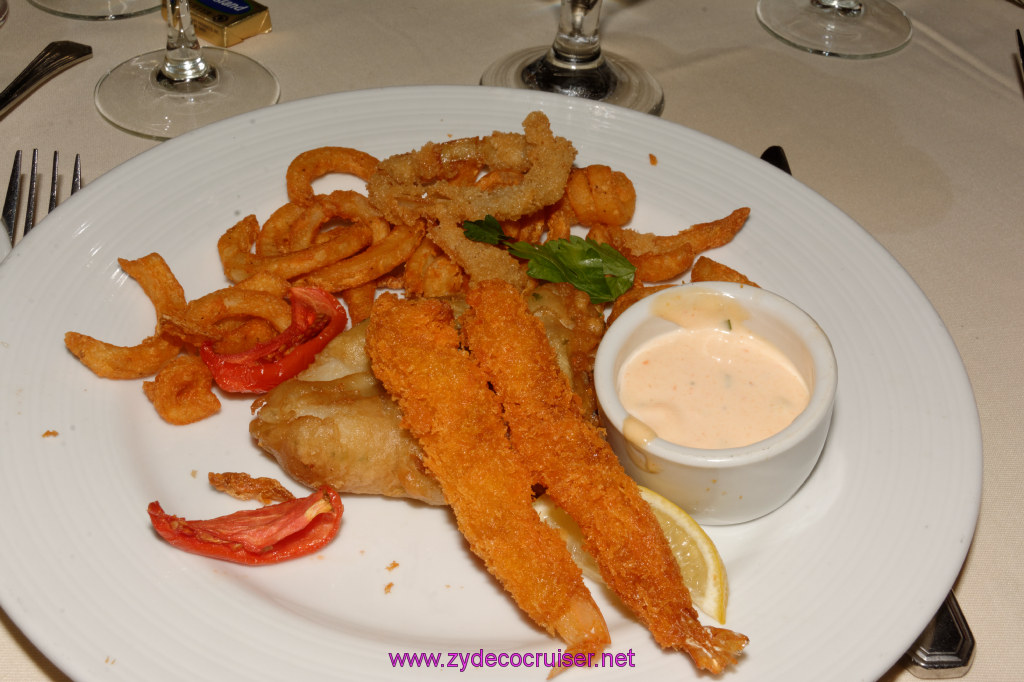 Chateaubriand with Sauce Bearnaise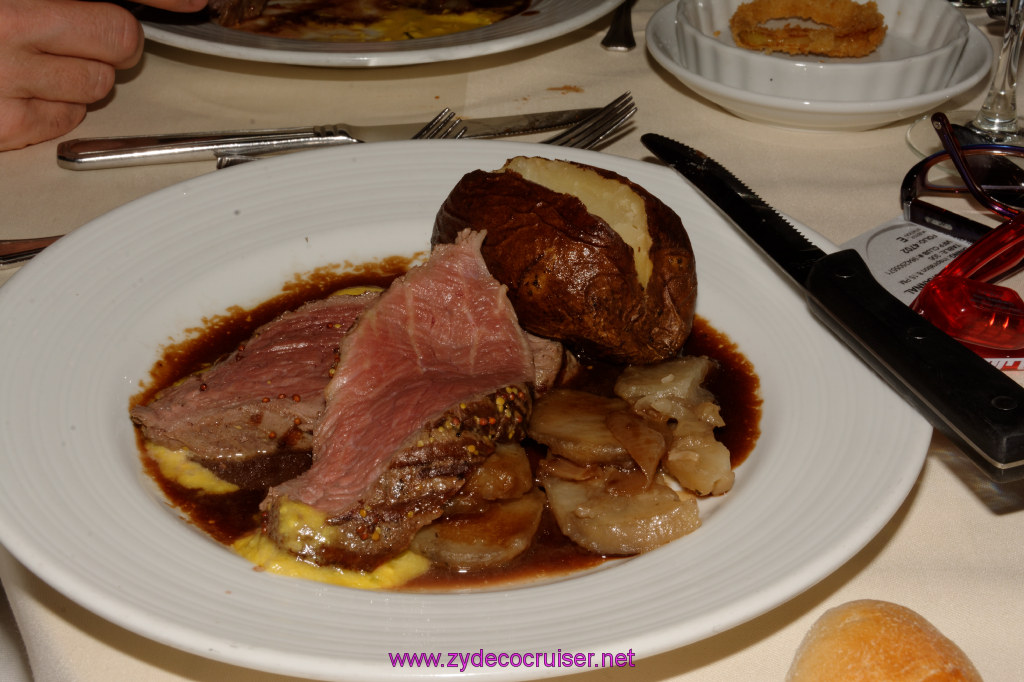 Grand Marnier Soufflé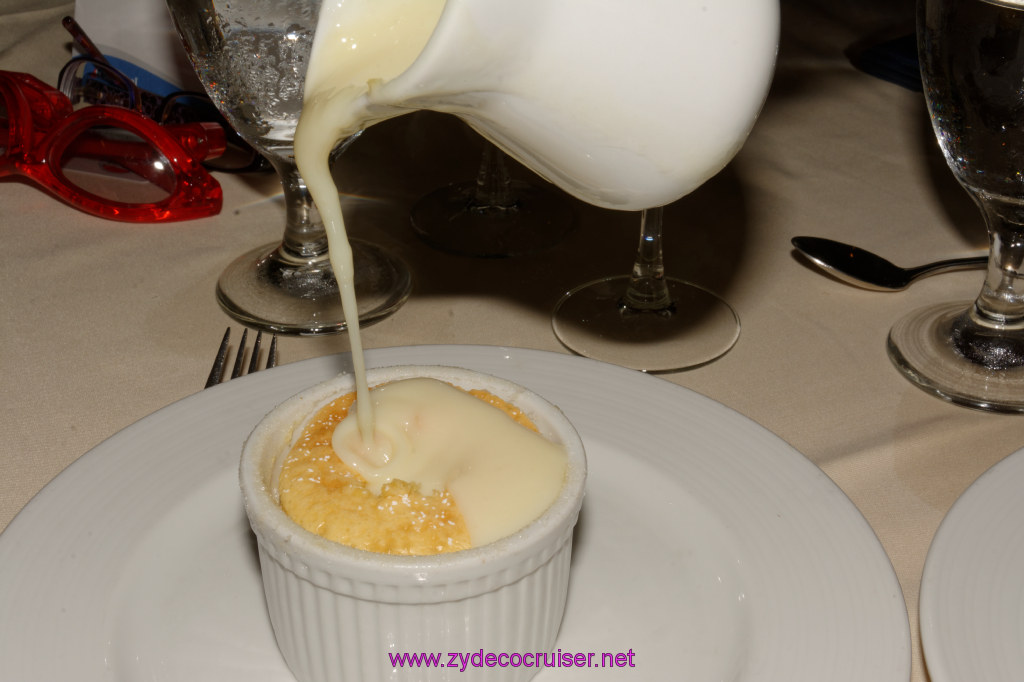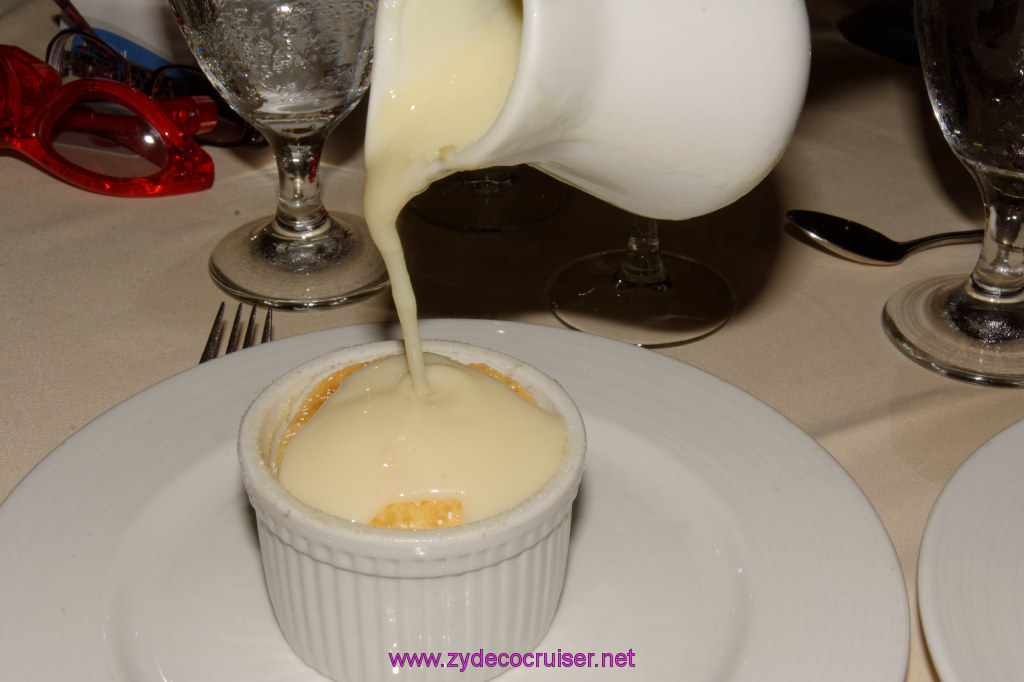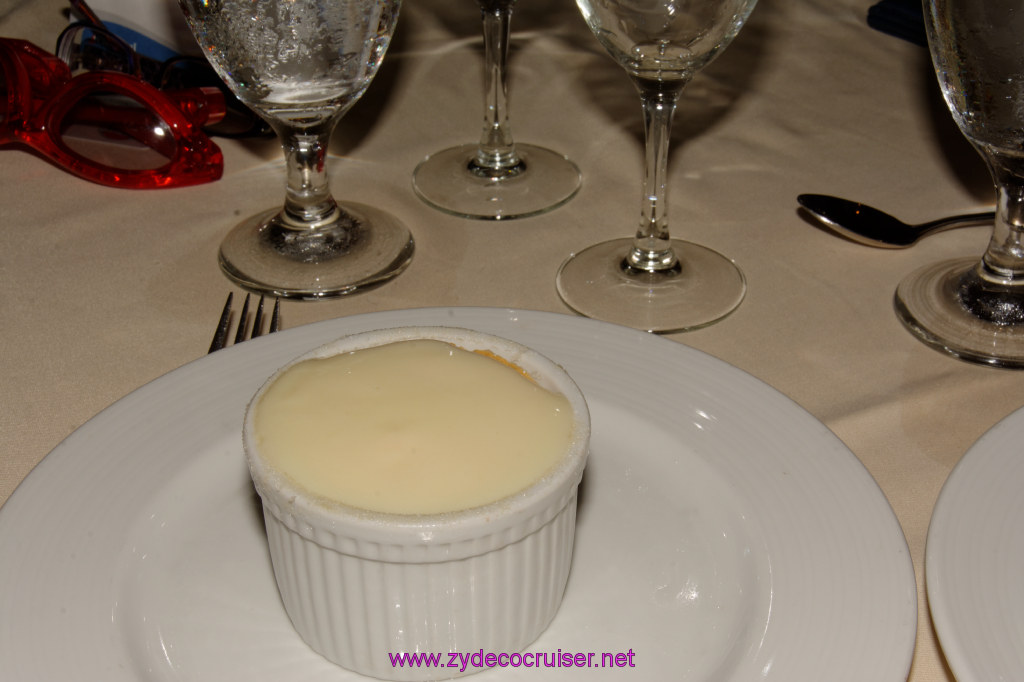 Cappuccino Pie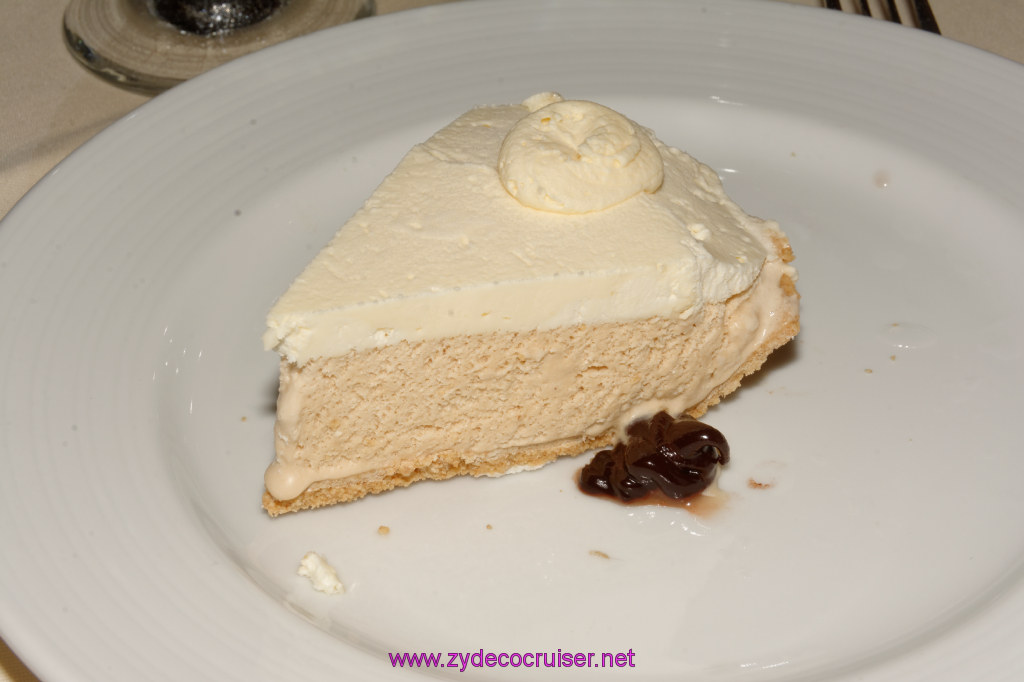 Some sweets from the Captain's Diamond get together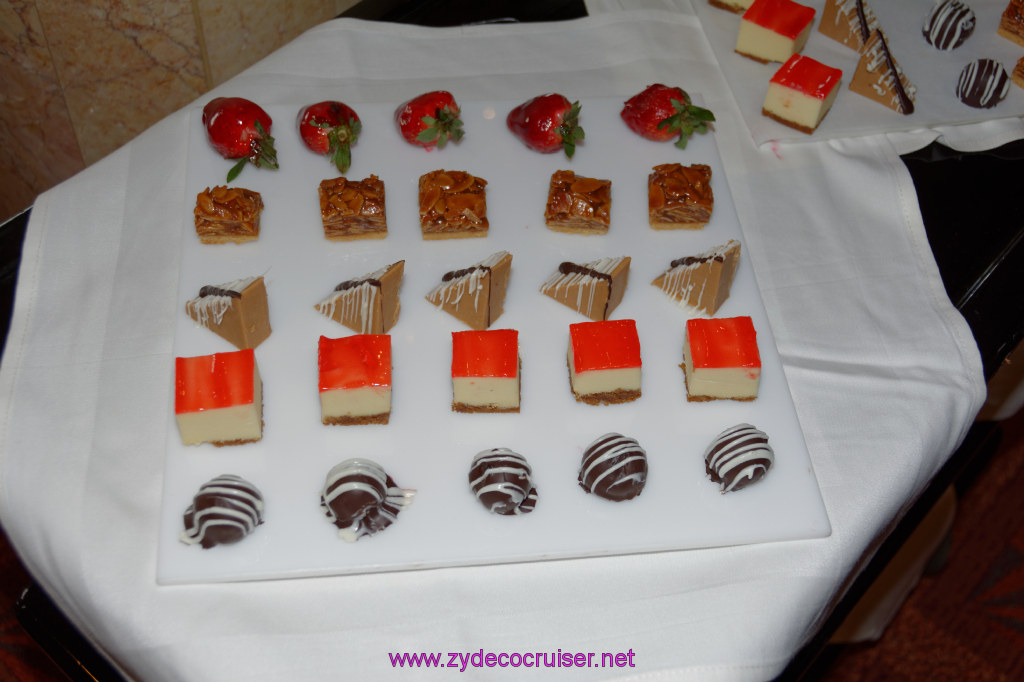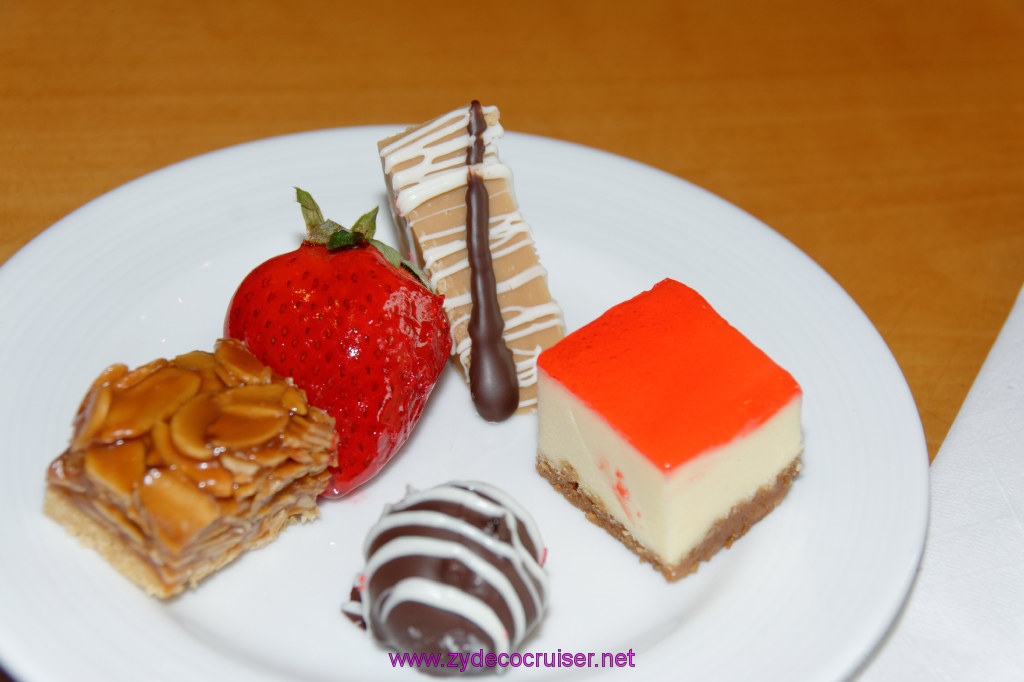 and later dinner
Carnival Elation Night 5 MDR Menus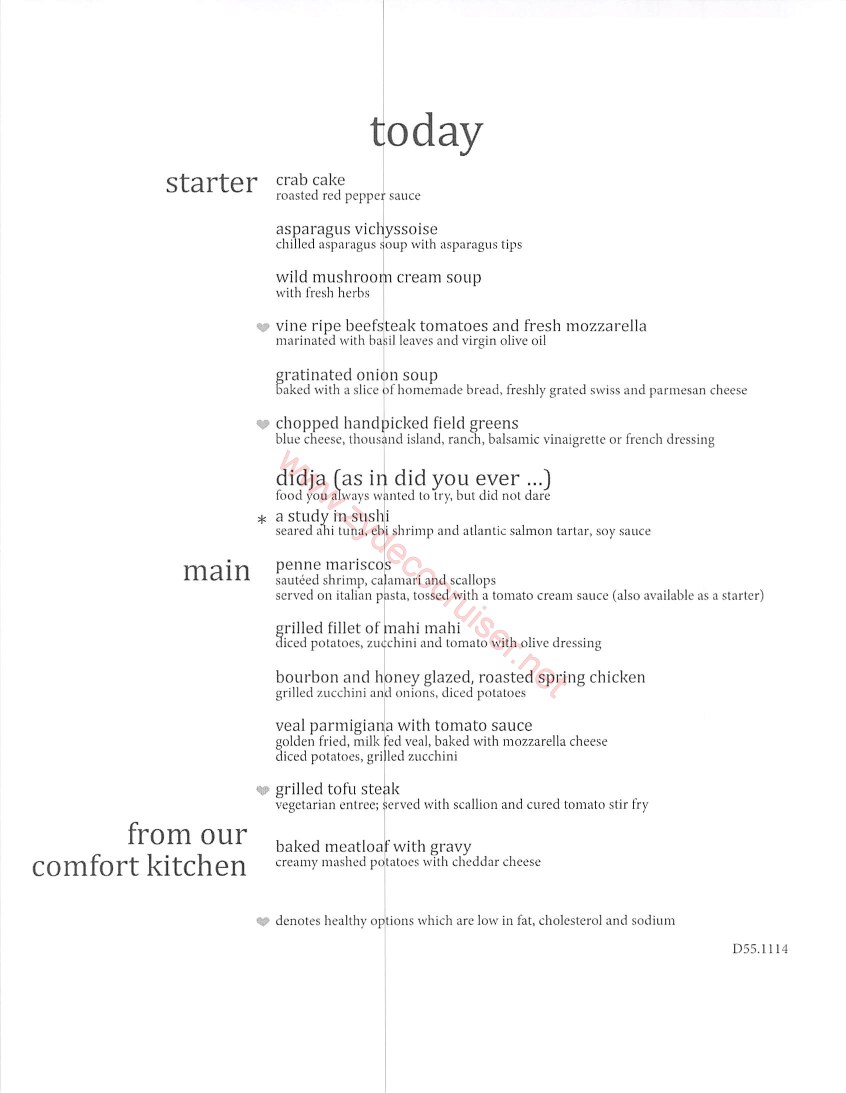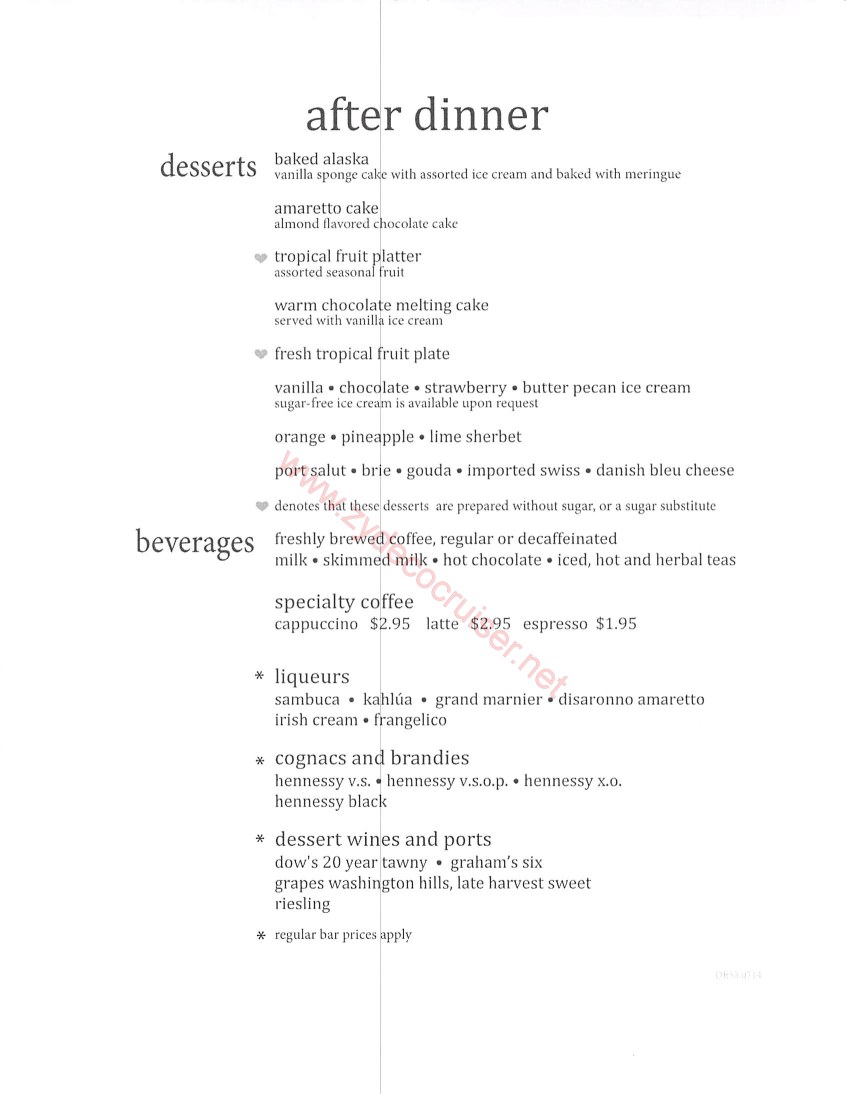 Crab Cake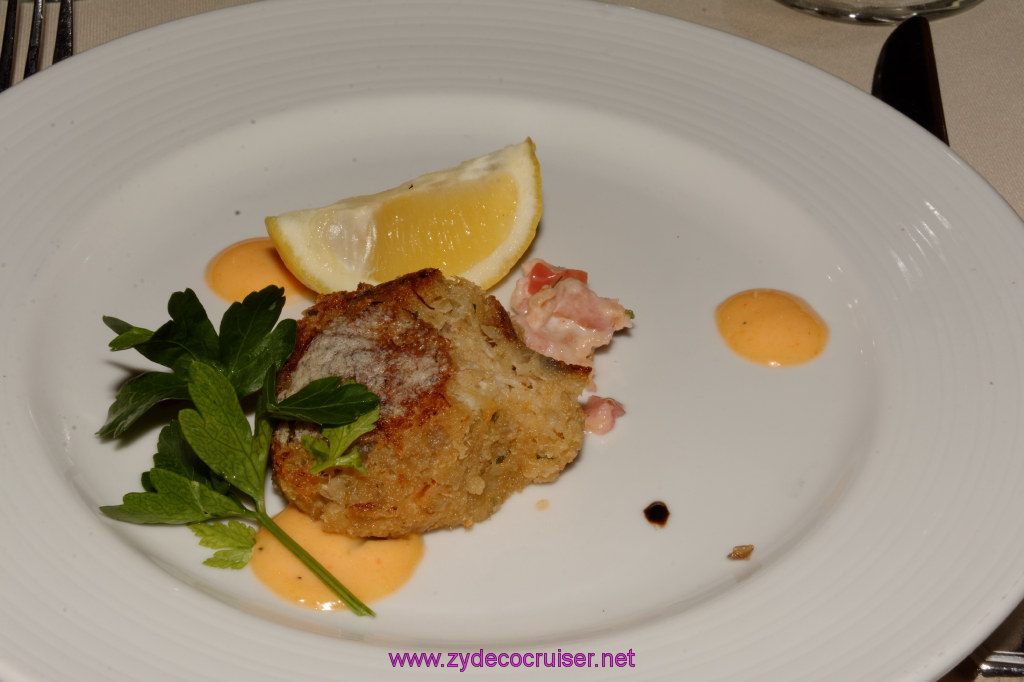 Gratinated Onion Soup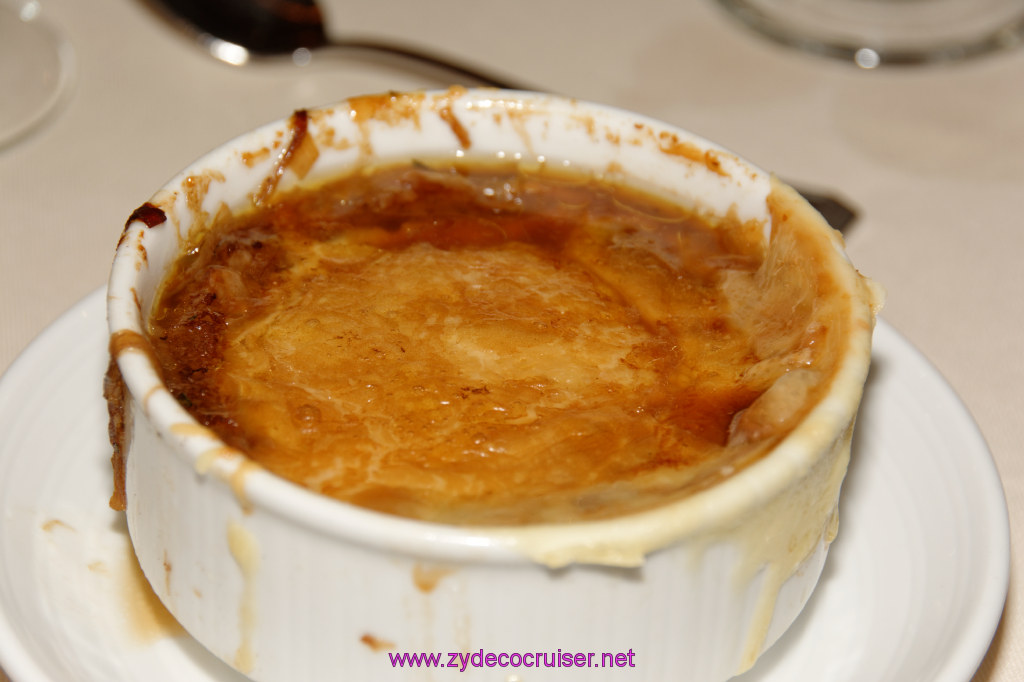 Veal Parmigiana with Tomato Sauce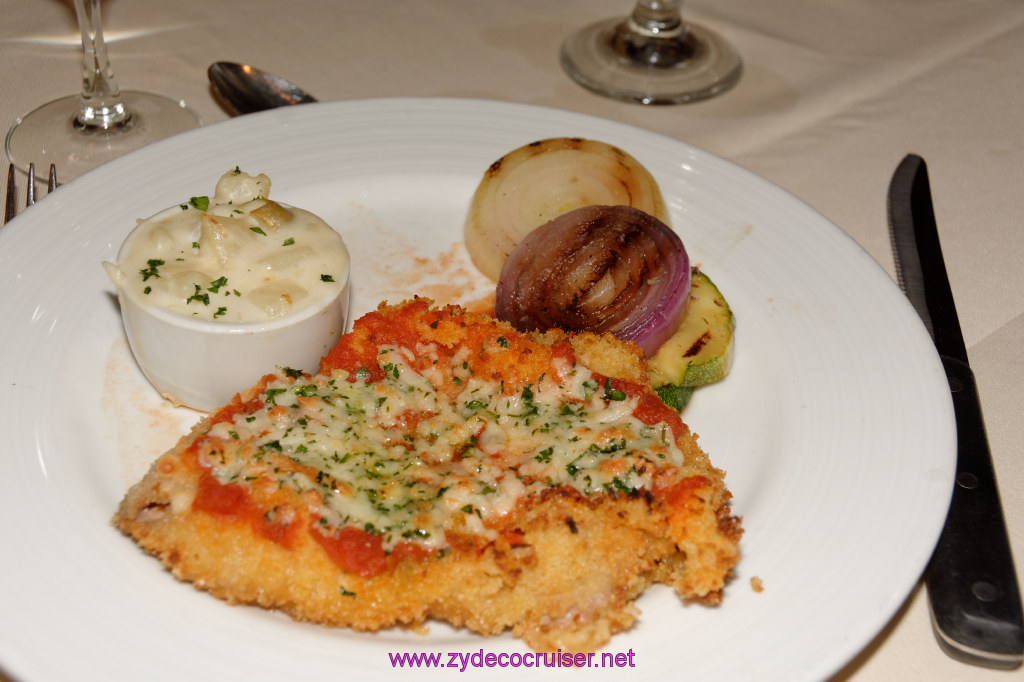 Baked Alaska